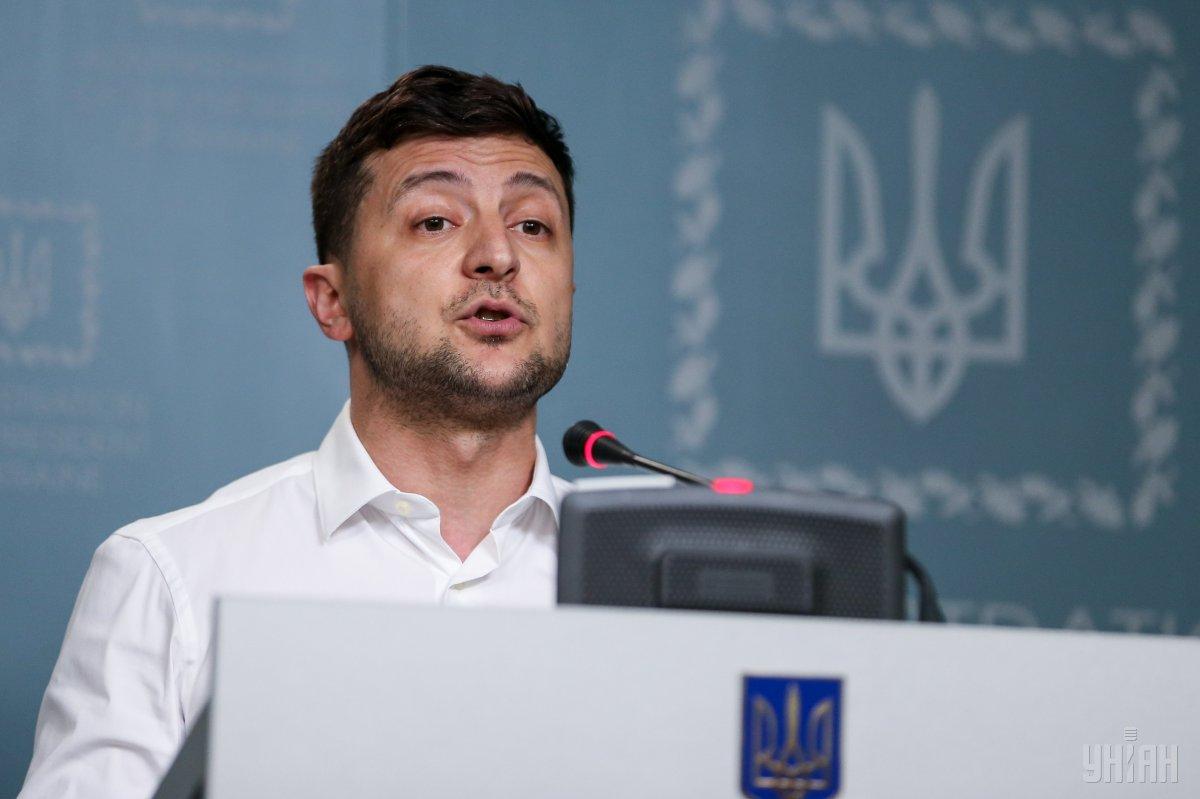 Photo from UNIAN
President of Ukraine Volodymyr Zelensky accused the Ministry of Foreign Affairs of Ukraine in actions that could disrupt the process of the liberation of Ukrainian sailors captured by Russia near the Kerch Strait in November 2018.
"I, as President of Ukraine, learn about our international moves from the internet," Zelensky told a Wednesday briefing in Kyiv, according to an UNIAN correspondent.
"I am now talking about the note we received from the Russian Federation about the return of our sailors and the response note that our Foreign Ministry sent," the president stressed. "I, President of Ukraine, of which I remind everyone, especially Mr. Klimkin, didn't see our response to the note of the Russian Federation, because Mr. Klimkin does not consider it necessary to discuss such issues with the President of Ukraine, and this is a matter of the country's security, a matter of our citizens' lives. This is all the priority of any president," said Zelensky.
Read alsoWedding behind bars: Ukrainian POW sailor getting married in Moscow detention center
According to him, experts and diplomats suggest that "such actions could jeopardize the return of our sailors."
"We do not understand, and I personally do not understand why, without consulting me, the minister makes a statement on behalf of Ukraine as a state, if it is the competence of the president," said Zelensky.
As UNIAN reported earlier, on June 26, Klimkin wrote on Facebook: "Well, we received a Russian diplomatic note. Russia 'reported' about the implementation of the ruling of the UN International Tribunal for the Law of the Sea, more precisely, about their unwillingness to fulfill this ruling. Still, even malicious violators of international law do not dare to completely ignore it."
Read alsoMoscow's game around sea communications becoming more dangerous – media
He said that in this note, "the Russians are trying to make us recognize the charges that are being pressed against our sailors, and indirectly – the occupation of Crimea, and also require that we act in accordance with the criminal procedure legislation of the Russian Federation."
"It's not going to be like that," the minister said.
Klimkin said that Russia should immediately and unconditionally implement the ruling of the International Tribunal – to release 24 Ukrainian sailors and three vessels. According to Klimkin, "the existing international legal documents, to which Ukraine and Russia are parties, give the Russians a full opportunity to settle all their internal procedural aspects of their release."