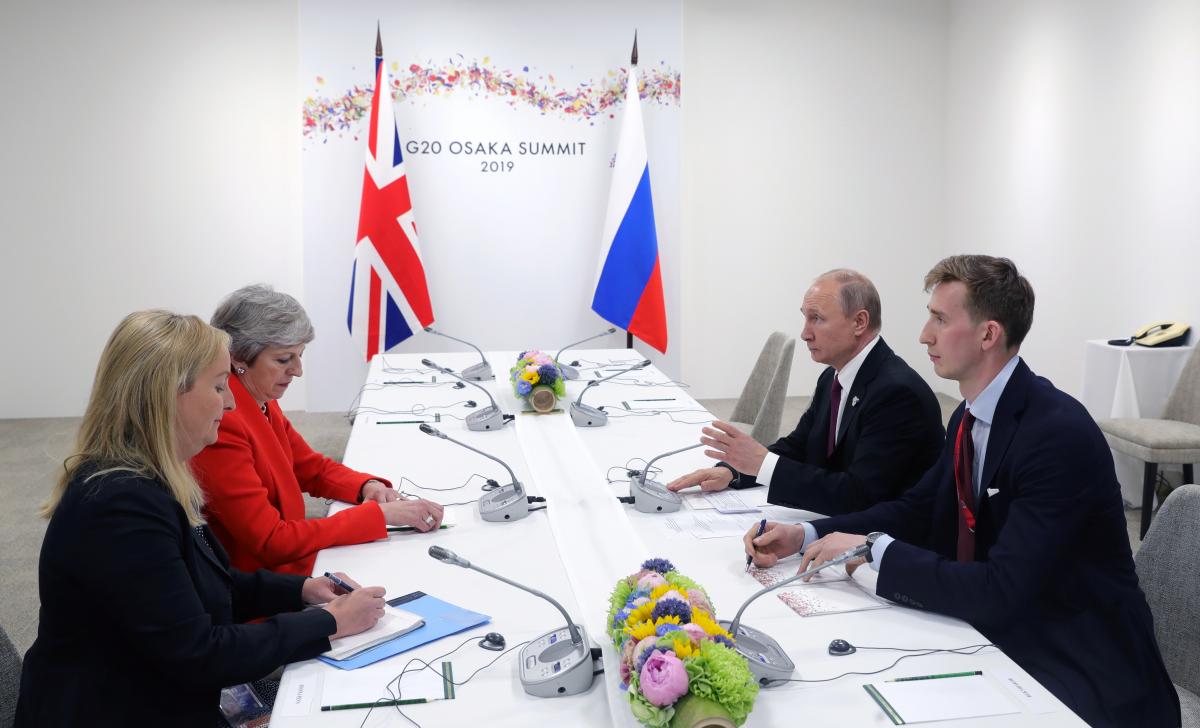 REUTERS
British Prime Minister Theresa May met with Russian President Vladimir Putin at the G20 Summit in Osaka (Japan) where she called for de-escalation in Donbas, eastern Ukraine, and release of Ukrainian sailors captured by Russia near the Kerch Strait in November 2018.
"She also said that Russia's actions in Ukraine are deeply concerning and that for any progress to be made there needs to be a de-escalation in the conflict and the release of the 24 Ukrainian servicemen whose vessels were forcibly seized in the Black Sea," May said, according to a readout of the meeting published on the UK government website on June 28.
Read alsoUkraine urges G20 to influence Russia to release Ukrainian sailors
"She told the President that there cannot be a normalization of our bilateral relationship until Russia stops the irresponsible and destabilizing activity that threatens the UK and its allies – including hostile interventions in other countries, disinformation and cyber attacks – which undermine Russia's standing in the world," the press release said.
As UNIAN reported earlier, on November 25, 2018, Russia blocked the passage through the Kerch Strait of the Yany Kapu tug boat and the Berdyansk and Nikopol naval boats, which were on a planned redeployment from the Black Sea port of Odesa to the Sea of Azov's Mariupol. The aggressor forces captured 24 Ukrainian crew, with three of them being injured in the attack on the vessels. Ukrainians were charged with the "illegal border crossing" (Article 322 Part 3 of the Criminal Code of Russia) and are facing up to six years in prison. On April 16, 2019, Ukraine filed a suit with the United Nations International Tribunal for the Law of the Sea to ensure the release of prisoners and vessels.
On May 25, the UN court issued a ruling on the application of interim measures on Ukraine's claim to the Russian Federation, ordering that Russia release the sailors and the boats. At the same time, the tribunal did not satisfy Ukraine's request to oblige the Russian Federation to cease criminal prosecution of prisoners. According to the tribunal's ruling, until June 25, Russia must inform the court of the execution of the order for the release of Ukrainian crew and vessels.
The Russian Foreign Ministry said that the UN International Tribunal for the Law of the Sea has no jurisdiction to consider Ukraine's demands to release captured sailors and boats.
According to Ukraine's Deputy Minister of Foreign Affairs for European Integration, Olena Zerkal, the claim of Ukraine vs Russian Federation on the seizure of sailors and vessels will be considered on merits in a separate arbitration.
On June 25, Dmitry Peskov, Press Secretary of the Russian president, said Moscow would ignore the requirement of the UN International Tribunal for the Law of the Sea to inform the court on June 25 that the order to release Ukrainian prisoners of war sailors and ships has been fulfilled.