REUTERS
The Servant of the People Party remains the leader in the upcoming elections to the Verkhovna Rada, Ukraine's parliament, scheduled for July 21.
The party has increased its support rating to 48.5%, according to a survey conducted by Kyiv International Institute of Sociology (KIIS) whose results became available to UNIAN.
According to the results, 65.9% of respondents say they would go to polling stations for sure or would rather go to vote in the snap parliamentary elections on July 21, including 48.8% who have decided to vote.
Read alsoRatings change pending Rada elections: Poroshenko's party climbs to 3rd place, Batkivshchyna slides
Among those who intend to vote and have made up their mind, the answers are the following: 37.8% of respondents are ready to vote for the Servant of the People Party, while the pro-Russian Opposition Platform – Za Zhyttya (For Life) Party would have scored 11% of the vote. The European Solidarity Party led by former President Petro Poroshenko would have 7.2%, the Batkivshchyna Party led by Yulia Tymoshenko would get 4.8%, and Okean Elzy frontman Svyatoslav Vakarchuk's Holos (Voice) Party would have 3.4%.
At the same time, ex-SBU chief Ihor Smeshko's Strength and Honor Party is supported by 2.5% of respondents, while the Opposition Bloc – Party for Peace and Development whose political council chaired by Boris Kolesnikov is backed by 2% of respondents.
When calculating percentages in relation to those who intend to vote, sociologists say four parties have the best chances to enter the parliament: the Servant of the People Party (48.5%), the Opposition Platform – Za Zhyttya Party (14.1%), the European Solidarity Party (9.2%), and the Batkivshchyna Party (6.2%).
These political forces clear the 5% threshold and confidently enter the Verkhovna Rada.
Other political forces do not cross the threshold: the Holos Party gets 4.4%, the Strength and Honor Party has 4.1%, the Opposition Bloc – Party for Peace and Development has 2.5%, Oleh Liashko's Radical Party scores 2.4%, and the Ukrainian Strategy Party led by current Prime Minister Volodymyr Groysman has 2.3%.
The ranking of other political forces is lower than 2%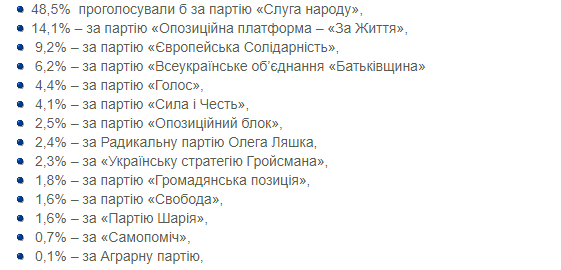 KIIS polled respondents across Ukraine from June 25 to July 7. Personal interviews were conducted with 2,004 respondents living in 129 cities and towns in all Ukrainian regions (except Russia-occupied Crimea) using a three-stage stochastic sample with quota selection at the last stage representing the population of Ukraine aged 18 and older.
In Luhansk and Donetsk regions, respondents were interviewed only in the territory controlled by Ukrainian authorities.
The margin of error (with a probability of 0.95 and with a design effect of 1.5) does not exceed 3.3% for indicators close to 50%, 2.8% for indicators close to 25%, 2% for indicators close to 10%, and 1.4% for those close to 5%.