Photo from UNIAN
The National Anti-corruption Bureau of Ukraine (NABU) has summoned Prosecutor General Yuriy Lutsenko in the case of Maidan activist Ivan Bubenchyk.
Read alsoUkraine's SBI summons Poroshenko for questioning
"Prosecutor General Yuriy Lutsenko is summoned for questioning to NABU about his procedural decision to transfer high profile case against Maidan activist Bubenchyk to the prosecutors headed by supervising Deputy Prosecutor General Anzhela Stryzhevska. Let me remind you that the reason for such a decision in April last year was the statements of participants in the Revolution of Dignity and the publication of a number of media outlets about the biased qualification of Bubenchyk's actions during the events of January-February 2014. The prosecutor general is summoned for questioning as a witness in criminal proceedings initiated by the lawyers of the victims," Lutsenko's press secretary Larysa Sargan wrote on Facebook.
The case has been registered under Part 1 of Article 364 of the Criminal Code of Ukraine (abuse of power or official position, i.e. deliberate, for personal gain or in other personal interests or in the interests of third parties, use of authority or official position by an official contrary to the interests of the service if it caused significant harm to the rights and interests of individuals or state or public interests, or the interests of legal entities).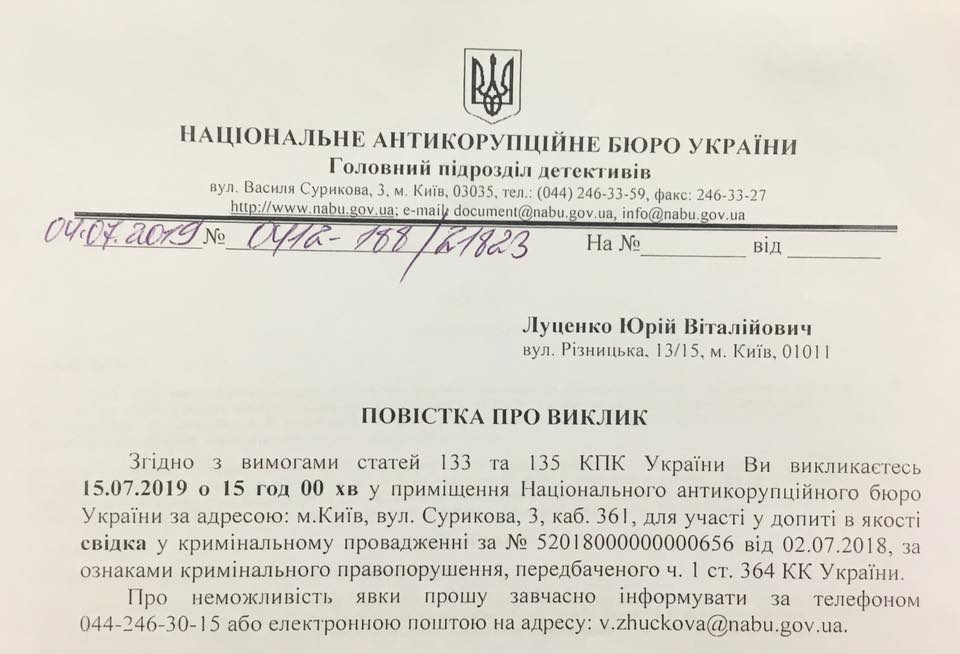 facebook.com/LarysaSargan
As UNIAN reported earlier, Bubenchyk was detained on the Ukrainian-Polish border while heading for Poland in the morning on April 3, 2018. He is charged with killing two Berkut riot police officers and an attempted murder of another one in 2014.
However, on April 4, 2018, Ukrainian Prosecutor General Yuriy Lutsenko said he had decided to replace a prosecutorial team probing the case of Maidan activist Ivan Bubenchyk as they incorrectly qualified the activist's actions.
On April 5, Bubenchyk was served with new charge papers, in which the paragraph about pre-meditated murder had been removed.
On May 17, 2018, Kyiv's Pechersk district court chose a preventive measure for Bubenchyk in the form of personal suretyship by two lawmakers.