Another Russian 'aid convoy' reaches border with Ukraine
Another convoy of trucks that Moscow says is carrying humanitarian aid to Ukrainians in the Donbas has reached the border of Ukraine, the National Center for Crisis Management of the Russian Emergency Situations Ministry reported on Thursday, according to Russian news agency RIA Novosti.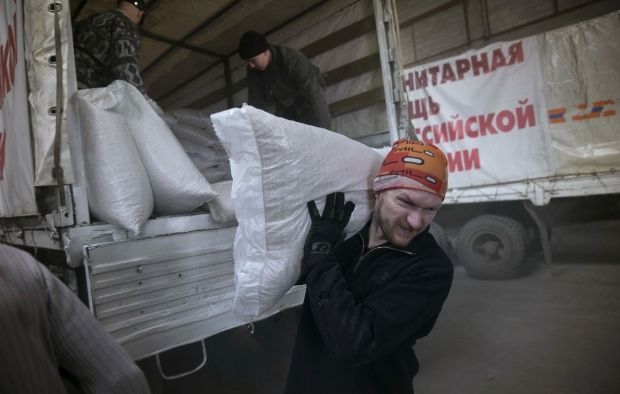 REUTERS
"The first column of trucks arrived at the Donetsk border crossing point, while the second arrived at the Matveev-Kurgan border crossing point, where the customs clearance of vehicles was beginning in accordance with established procedure," the report says.
According to the report, the representatives of the OSCE mission are observing the customs clearance at the Donetsk border crossing point.
"After all the border procedures the columns will continue their route: one part will go towards Donetsk, while the second column of trucks will go to Luhansk," the report reads.
This is the 23rd time since last August that Russia has sent a large column of vehicles to Ukraine without the permission of Kyiv. In violation of international norms, neither Ukrainian officials or members of the International Committee of the Red Cross have been permitted to inspect the contents of the convoys in full. The convoys only ever visit areas of the Donbas in which militant organizations have seized control from the Ukrainian authorities.
Ukraine says Russia is using the convoys to supply weapons and ammunition to the militants in the east of Ukraine.
Russia denies this.
If you see a spelling error on our site, select it and press Ctrl+Enter