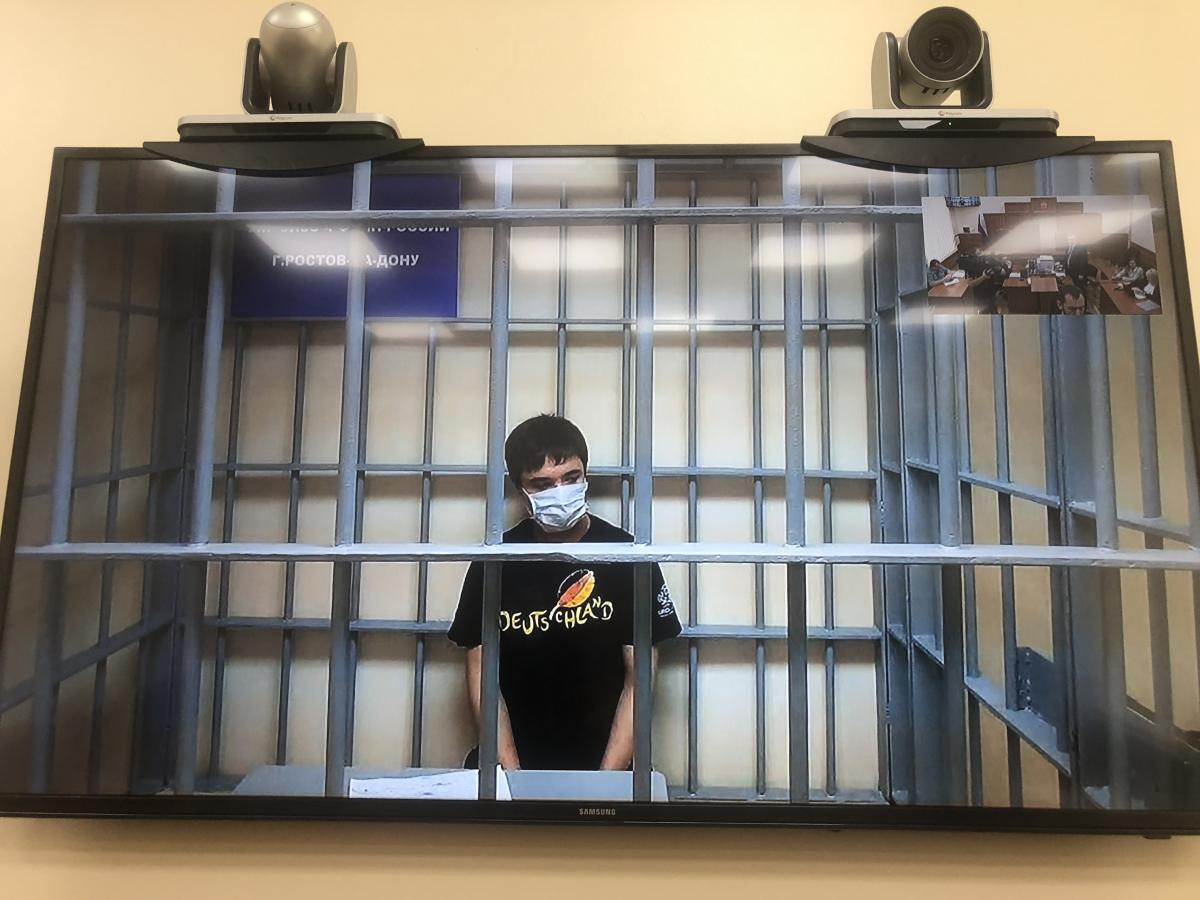 Photo by roman Tsymbaliuk
The Military Board of the Russian Supreme Court upheld the verdict of the North Caucasian District Military Court to Ukrainian political prisoner Pavlo Hryb, sentenced to six years in a penal colony.
A trio of Russian judges handed down the relevant ruling on Tuesday, according to an UNIAN correspondent in Russia.
"The decision of the North-Caucasian District Military Court shall be upheld and the appeal – dismissed," said one of the judges.
Pavlo, who took part in the hearing via a video link with Rostov-on-Don's remand facility, was wearing a medical mask throughout the process.
Read alsoUkraine, Russia ombudswomen discuss independent medicals for Ukrainian political prisoners
During the hearing, he delivered his statements in Ukrainian through an interpreter, but due to video connection issues, only part of his words were actually interpreted to the judges.
Pavlo stressed he did not plead guilty and that he was convicted unreasonably.
"I disagree with the verdict," Hryb stressed.
In his last word, he declared that, like other political prisoners, he did not intend to surrender.
"Slaves are not allowed into Heaven. Glory to Ukraine!" Pavel exclaimed in conclusion.
EU diplomats, a Ukrainian Consul, as well as several Muscovites, who openly oppose the Russian military invasion of Ukraine, arrived to attend the hearing and support Hryb.
Lawyer Marina Dubrovina stressed that the ruling was illegal, unfounded, and made on the basis of confessions taken from Pavlo through torture and which he later denied. She added that Hryb also claimed he had been subjected to physical abuse by his abductors who snatched him from the Belarusian city of Gomel on Aug 24, 2017.
Read alsoPavlo Hryb might not survive prison term – father
"Hryb also said he had been subjected to violence while he was being held in a gym at the premises of Smolensk region's FSB office, in the city of Yartsevo, on August 25, 2017," said the lawyer.
Dubrovina reported that, after the abduction, Hryb was taken to the Russian territory and, once the border was crossed, he was beaten in the forest. "During the abduction, he was strangled and beaten. Physical force was also applied to him after he was handed over to other operatives," she said.
The lawyer stressed that Pavlo had been held at the FSB office for days, deprived of water and food. He was chained to the wall bars or a 32kg weight in a gym. "He was threatened; there were attempts to hang him on the wall bars, upside down," Dubrovina stressed, adding that the investigators thus forced him into pleading guilty.
As UNIAN reported earlier, the reports of Hryb's abduction broke on August 28, 2017, after his father, then a member of the public council of the State Border Guard Service of Ukraine, learned about it.
According to Hryb's father, on August 24, a 19-year-old youth went to Gomel, Belarus, to meet with who he thought was his female friend from an online chat. The girl was supposed to come to the meeting from Russia. It appeared that the FSB used the "friend" as a decoy to lure Pavlo out of Ukraine. Later it became known that the Ukrainian was being held at a detention center in Russia's Krasnodar. Russian investigators accused him of allegedly plotting a terrorist attack on the school in Sochi.
Pavlo has a severe congenital disease – portal hypertension – requiring specific treatment on a daily basis. Russian authorities have not allowed Ukrainian doctors to examine Pavlo in the remand facility.
On March 22, 2019, the North-Caucasian District Military Court sentenced the Ukrainian to six years in a penal colony on charges of alleged "complicity in terrorism."
On July 1, Pavlo turned 21.