Communist leader Symonenko agrees to visit SBU next Monday for interrogation
Chief of the SBU's main investigation department Vasyl Vovk said that Petro Symonenko's lawyer had received a summons for his client an hour before.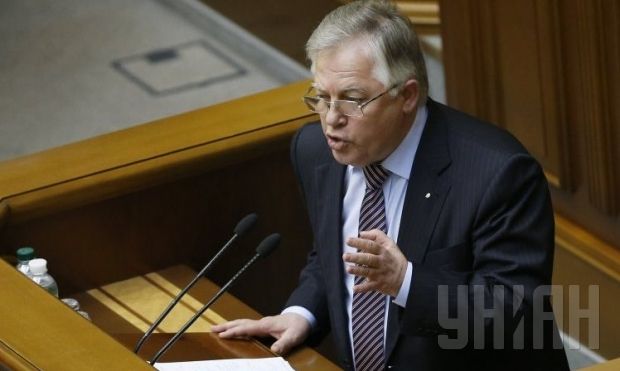 Symonenko agrees to interview by SBU officers / Photo from UNIAN
Leader of the Communist Party of Ukraine Petro Symonenko has agreed to visit the office of the Security Service of Ukraine (SBU) on Monday, April 6, for interrogation at 1000 Kyiv time.
Chief of the SBU's main investigation department Vasyl Vovk announced this, an UNIAN correspondent reported.
"An hour ago, the lawyer received a summons, and they have agreed to come to the SBU for questioning at 1000 Kyiv time on Monday.
SBU Press Secretary Olena Gitlianska announced on April 1 that the SBU had invited Symonenko for questioning on April 2 to examine the circumstances of his presence at the congress of Russia's Communist Party in Moscow.
"The SBU is probing the circumstances of the presence of leader of the Communist Party of Ukraine Mr. Symonenko at the plenum of the Central Committee of the Communist Party of the Russian Federation in Moscow. His public speeches and comments to Russian TV channels, including to Rossiya-24 on March 28, are being examined to find out whether his words encourage [anybody] to commit crimes against the fundamentals of Ukraine's national security," she said.
This was the reason why Symonenko was being called in for questioning, she added.
Gitlianska said the next day, April 2, that Symonenko's interrogation would not take place because he hadn't received a summons and had been avoiding communication with SBU officers in every way possible.
UNIAN's reference. Ukrainian Justice Minister Pavlo Petrenko demanded on March 30 that the SBU check information disclosed by Ukrainian MPs that Symonenko had been elected member of the presidium of the Russian Communists' plenum.
The Justice Ministry also demands an additional investigation into Symonenko's involvement in offences related to terrorism financing, support of such terrorist organizations as the self-proclaimed republics of Donetsk and Luhansk in eastern Ukraine, and recognition of the annexation of Crimea and activity aimed at overthrowing constitutional order and violating Ukraine's territorial integrity.
If you see a spelling error on our site, select it and press Ctrl+Enter