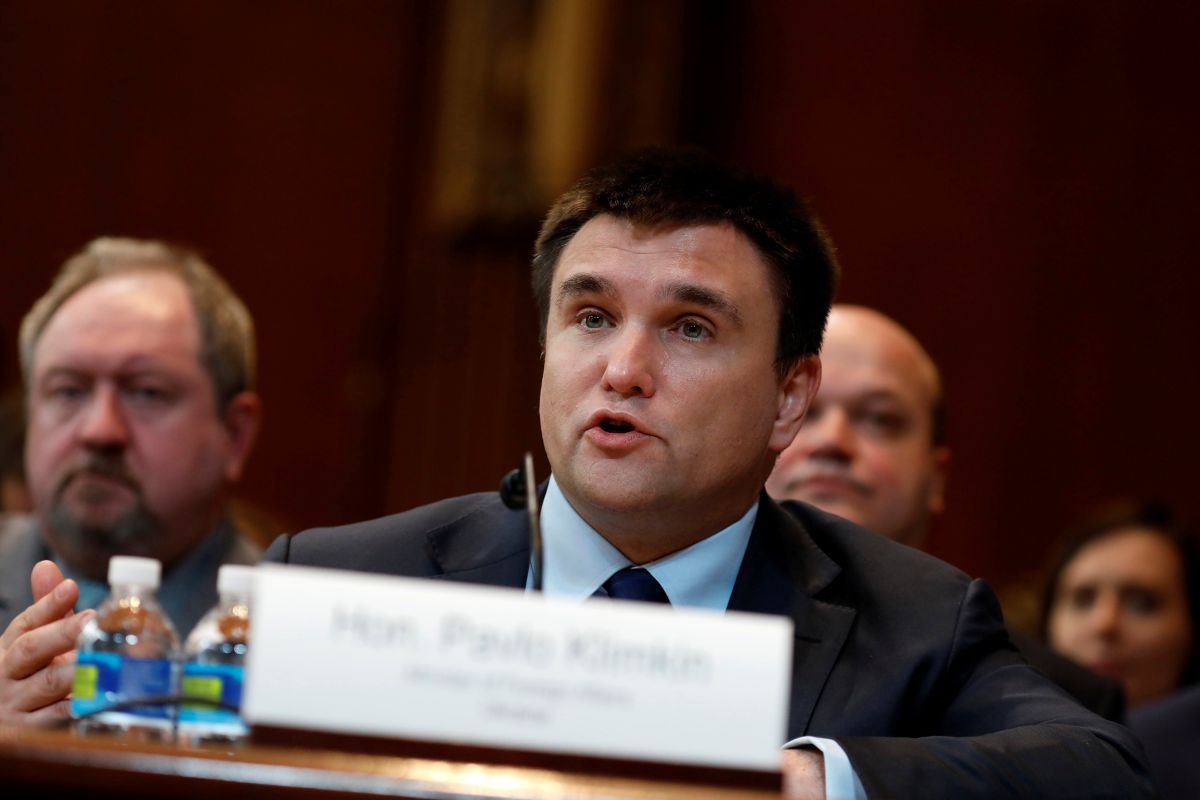 REUTERS
Ukraine's Minister of Foreign Affairs Pavlo Klimkin says that it is impossible to make a Donbas pact with Russian President Vladimir Putin.
"I think it is impossible to make a pact with Putin regarding Donbas. It is impossible. While I say that we need some kind of a situational agreement on a ceasefire, on ending this hot phase of the war, certainly, but it is impossible to make a pact, since Putin wants Ukraine we're trying to create, to cease to exist," the minister said during public debate at the Veteran Hub, a platform for cooperation of veterans' NGOs.
Read alsoKlimkin to Zelensky: Team effort needed in negotiations with Putin
Klimkin also said that the Minsk peace agreements on Donbas have "worthy things," namely stipulate the withdrawal of all foreign troops from the territory of Ukraine.
"What was not done there is what was impossible to do, as Putin would not agree on compromise on Donbas. He didn't, doesn't and won't need Donbas," Klimkin said.
The minister is sure the Russian president was trying to use Donbas to talk "about the federalization of Ukraine" in communication with the West, and the issue of Russian passports is evidence of such intentions of Russia.
Klimkin believes that Putin wants to impose his own conditions on the West in the talks on Ukraine.
"There are normal things in the Minsk agreements, but this is a compromise," Klimkin said, adding that Ukraine and Russia see the order of the implementation of the Minsk agreements differently.
According to him, the Minsk agreements are political ones since "there are no appropriate, legally building obligations."
Klimkin said he had immediately told international partners, particularly Germany, that the Minsk agreements "would not work."
"Since we have fundamentally different interests. They cannot bring us to a compromise. Our interest is to return Donbas, not only the territory, but also people. And then gradually incorporate Donbas into our space, and Putin's interest is turn Donbas into Russia-controlled territory, replace a couple of people, a couple of names and say: 'And now you finance them, [while] I control them,' and this is the beginning of the collapse of Ukraine," Klimkin said.
"When I'm asked about our national idea, I see it as the Ukrainian nation's space where there are free people. Russia believes that the existence of such space is the end of Russia. And the impossibility of rebuilding [of the 'Russian Empire']. Therefore, it was clear since the very start that it is impossible to implement Minsk in the form in which it is in fact written," he added.