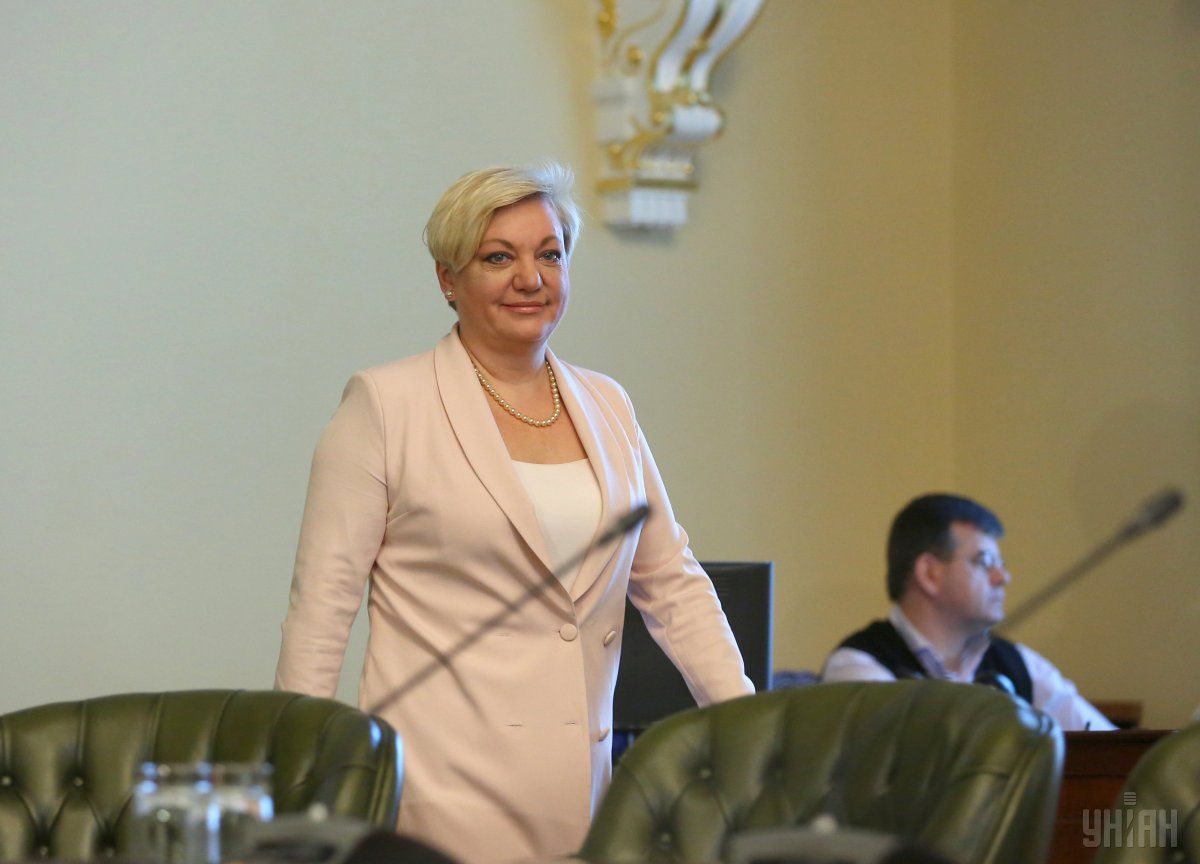 Photo from UNIAN
The Prosecutor General's Office (PGO) of Ukraine has once again summoned former Governor of the National Bank of Ukraine Valeriya Gontareva for questioning.
Read alsoProsecutor General's Office in Ukraine confirms charges brought against Poroshenko's allies
The copy of the summons has been posted on the PGO's website. The document says Gontareva Valeriya Oleksiivna must come to Kostiantyn Kulyk, a senior prosecutor, at the PGO's office on Riznytska Street in Kyiv on August 12.
The law enforcers want to interrogate Gontareva as a suspect in criminal proceedings No. 12013220540000400 of January 31, 2013 under Part 2 of Article 256, Part 5 of Article 191 of the Criminal Code of Ukraine (misappropriation, embezzlement of property or its seizure by abuse of official position) and participation in other procedural and investigative actions.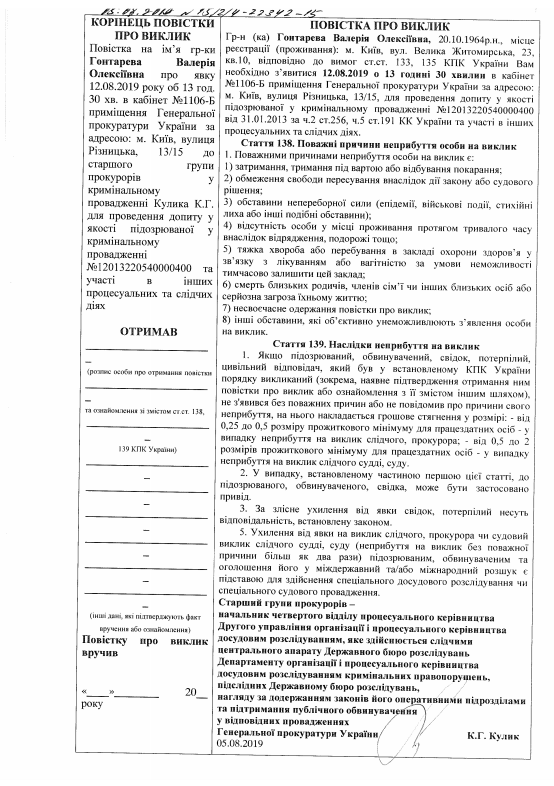 gp.gov.ua
As UNIAN reported earlier, on March 28, Lutsenko said the PGO had completed an investigation into the wrongdoings of Ukrainian oligarch Serhiy Kurchenko.
Kurchenko is suspected of being part of ex-president Viktor Yanukovych's criminal organization and complicit in committing grave crimes against the state of Ukraine.
A total of 98 persons, including 12 senior officials of ministries and departments, as well as the National Bank, and six heads of regional state administrations and 14 top managers of state-owned enterprises have been served with charge papers within the framework of investigations into the crimes of former President Viktor Yanukovych's allies.
On the same day, Deputy Head of the PGO's Department of International Legal Cooperation, Head of the Criminal Procedural Management Department Kostiantyn Kulyk named among probe targets in the Kurchenko case, who had been announced suspicion, former head of the Presidential Administration Boris Lozhkin, former Governor of the National Bank of Ukraine Valeriya Gontareva, former Ecology Minister Mykola Zlochevskiy, Deputy Head of Presidential Administration Oleksiy Filatov, and other top officials.
The corresponding statement by Kulyk was handed over to 1+1 TV Channel's journalists and voiced on the air of a Pravo na Vladu panel show.
Later, the PGO said suspicion notices to Lozhkin, Gontareva, and Filatov had been called off.
Then, on April 22, summons were posted on the PGO website issued to the name of Lozhkin, Filatov, and Gontareva obliging them to report to the PGO office on April 23 and April 25 to be handed suspicion notices in the case launched January 31, 2013.
Other persons involved in the investigation in the Kurchenko case were summoned for interrogation: ex-Minister of Ecology Zlochevskiy and co-owner of ICU Kostiantyn Stetsenko.