State Duma calls for sanctions against Latvia for comparing Russia to Germany after wars
The State Duma of the Russian Federation has called for sanctions to be imposed on Latvia for comparing Russia with post-war Germany, the chairman of the State Duma's Foreign Affairs Committee Aleksey Pushkov said on Russia's Govorit Moskva radio station on Monday.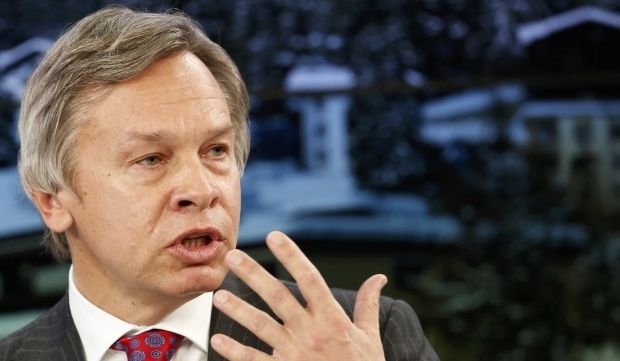 REUTERS
As reported earlier, Latvian Foreign Minister Edgars Rinkēvičs wrote on Twitter that Russia's current behavior could mean it ends up repeating the fate of Germany after the First and Second World Wars.
"The more I follow modern RU, the more I come to conclusion that she will end up like German Reich after both WWI & WWII & it'll be too late," Rinkēvičs tweeted.
According to Pushkov, "such statements should have a price."
"When the Minister of Foreign Affairs of Latvia allows himself to make such statements, he should understand that some steps might follow from our side that will cause a serious blow to the interests of Latvia - economic, commercial and others," Pushkov said.
"I do not think you can let foreign politicians chatter nonsense without there being any consequences for these politicians in terms of their admission to the territory of the Russian Federation as a minimum, and for their countries," Pushkov said.
"If a person represents officially the state, the state must take responsibility for his words."
"There are a number of possibilities, so it seems to me that we have to respond to it. And it is not necessary to respond with statements. We may respond with some steps that will show that words should have a price," Pushkov said.
"In terms of the content of what he says, I have a feeling that many politicians in Latvia, Lithuania and Poland don't have any other possibility to assert themselves, but to support the most rabid anti-Russian circles in the West and to be at the forefront of the anti-Russian campaign.
"Latvia is a very small country, a member of NATO and the EU that has a great importance during the crisis with Russia," he said.
"It is a border state, a state where the U.S. is sending its troops to carry out maneuvers. The more the head of the Latvian Foreign Ministry chatters, the more attention he has in the European Union and NATO," Pushkov said.
If you see a spelling error on our site, select it and press Ctrl+Enter