OSCE mission can't confirm complete withdrawal of heavy weapons in Donbas
There has still not been a complete withdrawal of heavy weapons from the demarcation line in the Donbas conflict zone, the head of the OSCE's Special Monitoring Mission in Ukraine (SMM) Michael Bociurkiw said on Ukrainian radio on Tuesday.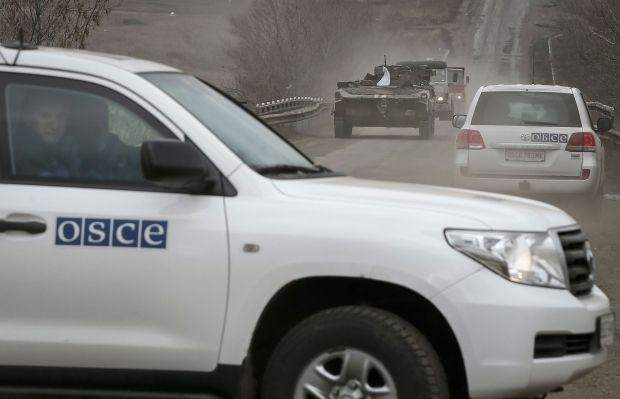 REUTERS
"The observers have reported that there are many cases of the movement of heavy weapons, but we can't say that there has been a complete withdrawal," he said.
"The head of the OSCE in Ukraine Ertuğrul Apakan will be able to confirm the withdrawal of heavy weapons if all the parties do much more work and make all efforts, and it also concerns informing the mission about weapons storage locations," Bociurkiw said.
"The mission must be sure that the withdrawn weapons will not be returned to the front," he said.
As UNIAN reported earlier, on February 12, Ukrainian President Petro Poroshenko, Russian President Vladimir Putin, German Chancellor Angela Merkel and French President François Hollande held talks in Minsk to resolve the conflict in the Donbas.
Following the talks, the parties approved a package of measures aimed at the implementation of the Minsk agreements of September. In addition, the leaders of Ukraine, France, Germany and the Russian Federation adopted a declaration in support of these measures.
In addition to other provisions of the new agreements reached by the "Normandy Four" leaders on Thursday, February 12, the parties agreed on a ceasefire to be effective from 0001, February 15, as well as the withdrawal of all heavy weapons. The agreements also provide for the release and exchange of all prisoners.
Despite the fact that a ceasefire was supposed to come into force, the militants have continued to attack the positions of the Ukrainian armed forces throughout the territory of the Donbas, Ukraine's military says.
On March 18, Ukrainian Defense Minister Stepan Poltorak said that Ukraine had fulfilled all its obligations under the Minsk agreements with regard to the withdrawal of heavy weapons.
The militants previously said that they had completed the withdrawal of heavy weapons from the demarcation line.
However, photo and video evidence regularly appears on the Internet showing heavy weapons in militant-occupied areas close to the front, and the Ukrainian authorities regularly report the use of heavy weapons by the militant side against Ukrainian positions.
If you see a spelling error on our site, select it and press Ctrl+Enter