PGO snap
Operating in the temporarily occupied area of Donetsk region, the perpetrators set up the so-called military-patriotic clubs for children "Spartantsy" [Spartans] and "Amazonki" [Amazons], as well as the public military-patriotic movement "Molodaya Gvardiya" [Young Guard].
"The main tasks of said associations include the recruitment and involvement of minors in participating in the unlawful activities of the 'DPR' terrorist groups under the guise of military-patriotic training and performing at various military sports events," the Prosecutor General's Office of Ukraine said in a statement, adding that several charges have been brought against the suspects, including "complicity in terrorism" and "breaching the rules of war."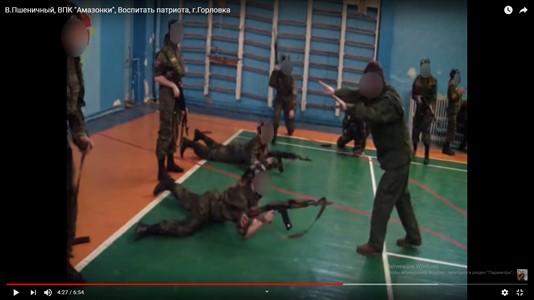 PGO snap
The culprits, "in conspiracy with representatives of the Russian-terrorist forces, committed a number of brazen crimes, in violation of the Art. 2, 4 of the Optional Protocol to the Convention on the Rights of the Child on the involvement of Children in Armed Conflict (OPCA), 2000, Art. 77 of the Additional Protocol to the Geneva Conventions of August 12, 1949, concerning the protection of victims of international armed conflicts (Protocol I), Art. 3 of the Convention on the Prohibition and Immediate Action for the Elimination of the Worst Forms of Child Labor of 1999, section XXVI part  "C" Art. 8 and section XII part "E" Art. 8 of the Rome Statute of the International Criminal Court 1998, Art. 2 of the 1989 Convention for the Protection of the Rights of the Child, Art. 30 of Law of Ukraine "On the Protection of Childhood", and Art. 52 of the Constitution of Ukraine."
Read alsoOSCE monitors: 23 children injured or killed in Donbas in 2018 alone
In particular, in their efforts to impose on the children ideologically-charged propaganda, they have been recruiting local children aged 5 to 18 years for future participation in hostilities against Joint Forces and other terrorist activity, through conducting ammo and explosive handling training sessions and obliging the children to wear military uniforms.
The relevant actions, prosecutors say, are also aimed at international complications, affecting decision-making by state authorities and local governments, as well as obstructing operations of law enforcement officers of Ukraine, the Armed Forces of Ukraine, and other military units involved in the Anti-Terrorist Operation and the Joint Forces Operation.
Also, it was established that "these individuals are active participants and supporters of the 'DPR' terrorist organization, promoting the Russian neo-imperial geopolitical doctrine of the 'Russian world', as well as the idea of Donetsk region seceding from Ukraine."
Pre-trial investigation is ongoing: measures are being taken to locate and apprehend both suspects.