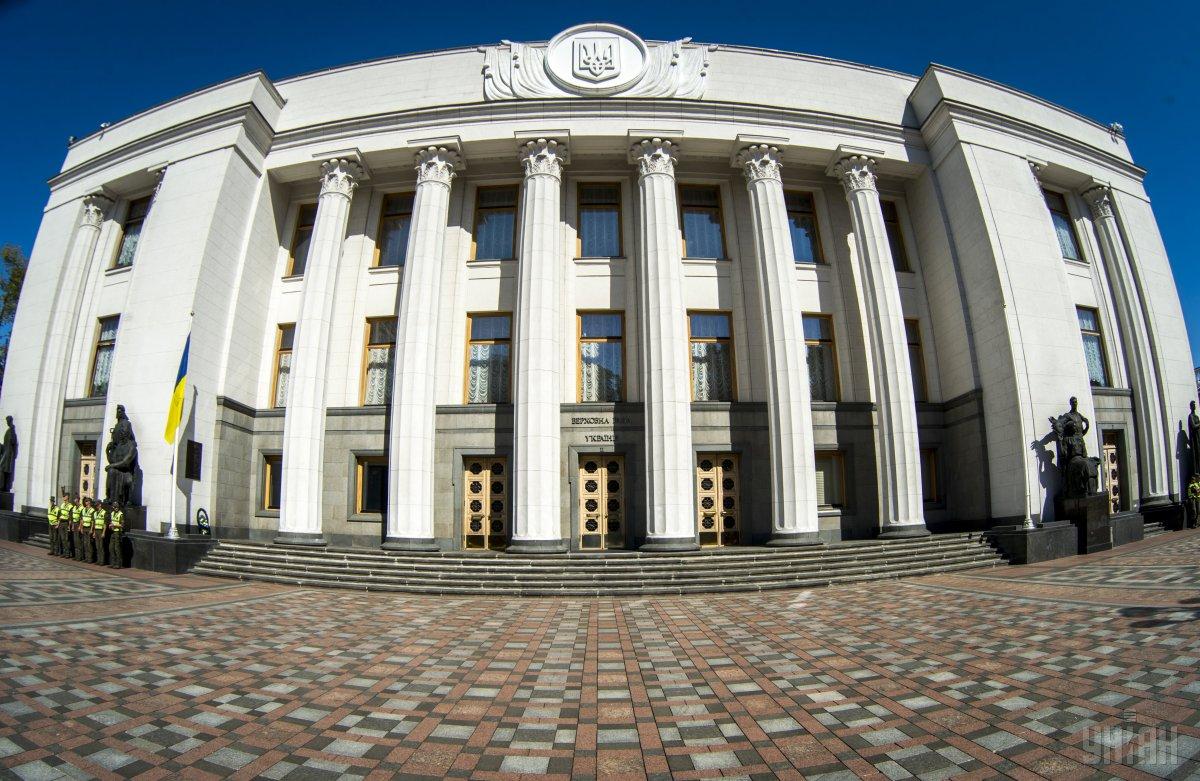 Ukraine's parliament  building/ Photo from UNIAN
An ad hoc group of newly elected parliamentarians in charge of preparations for the work of the new parliament has in general approved a list of 23 parliamentary committees, which will be created within the Verkhovna Rada of the ninth convocation.
According to a UNIAN correspondent, the corresponding decision was made at a group meeting on Thursday, August 15.
Read alsoServant of the People Party names possible candidates for parliament speaker, his deputy
Before the vote, the coordinator of the first working subgroup, presidential representative in parliament Ruslan Stefanchuk said that "the subgroup focused on the number of committees and adjusted the names of the committees in connection with the enlargement, and there was a considerable but very positive debate about subject matter."
"The result of this debate is that today we are sending the number and names of the committees to the ad hoc group. We only propose, the Verkhovna Rada can amend and change," he said.
Stefanchuk announced the names of the committees proposed to the Verkhovna Rada of the ninth convocation:
1. Committee on Finance, Tax and Customs Policy;
2. Budget Committee;
3. Committee on Economic Development;
4. Committee on Humanitarian and Information Policy;
5. Committee on the Youth and Sports;
6. Committee on Education, Science and Innovation;
7. Committee on Human Rights, De-occupation and Reintegration of temporarily occupied territories in Donetsk and Luhansk regions and the Autonomous Republic of Crimea, on national minorities, interethnic relations;
8. Committee on Digital Transformation;
9. Committee on Legal Policy;
10. Committee on Agricultural and Land Policy;
11. Committee on Anti-corruption Policy;
12. Committee on Law Enforcement;
13. Committee on Energy, Housing and Utilities;
14. Committee on Transport and Infrastructure;
15. Committee on Organizing State Power, Local Self-Government, Regional Development and Urban Planning;
16. Committee on National Security, Defense and Intelligence;
17. Committee on National Health, Medical Assistance and Medical Insurance;
18. Committee on Environmental Policy and Environmental Management;
19. Committee on Freedom of Speech;
20. Committee on Rules of Procedure, Ethics of Lawmakers and Organization of the Verkhovna Rada's Work;
21. Committee on Foreign Policy and Inter-Parliamentary Cooperation;
22. Committee on the Integration of Ukraine into the European Union;
23. Committee on Social Policy and Social Protection of Veterans Rights.
Also, it was decided not to create a special commission on privatization in the new parliament.
During the vote on this issue, one member of the 27-member group voted against, three abstained, and the rest voted in favor of the decision.