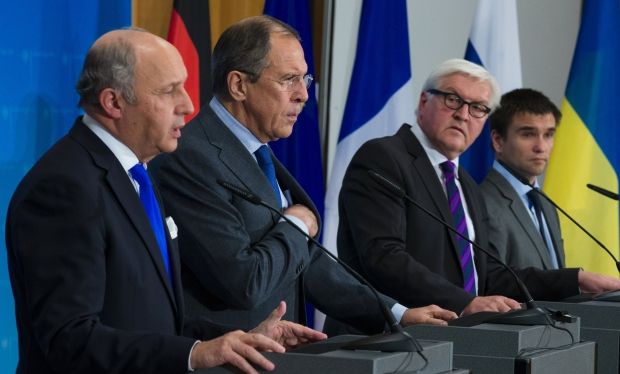 REUTERS
The statement was published on the Web site of the German Foreign Ministry early on Tuesday after the late-night talks in Berlin, Ukrainian online news portal Gordon reported.
"We call for the withdrawal of mortars and heavy weapons of less than 100 mm caliber, as well as all types of tanks. We encourage the tripartite contact group, in coordination with the special monitoring mission (SMM) of the OSCE to agree an appropriate schedule," the statement reads.
However, the participants of Berlin meeting have noted that the situation remains tense in the Donbas due to numerous violations of what was supposed to have been a ceasefire from February 15.
"In particular, we express our deep concern at the outbreak of fighting in the last weekend, including the use of heavy weapons in the area near Shyrokino and Donetsk airport," the statement says.
The Normand Four foreign ministers called on all parties to cease hostilities and demonstrate commitment to the full implementation of the ceasefire and the withdrawal of heavy weapons. The diplomats also expressed support for OSCE SMM and called on all parties to cooperate with the observers.
The foreign ministers called on the parties to the conflict in Donbas to nominate as soon as possible their representatives in sub-working groups within the tripartite contact group in Ukraine.
"We urge the parties to urgently complete the formation of working groups of the tripartite contact group as soon as possible," the ministers said in a statement.
The diplomats said they had agreed that the activities of four working groups - on security, the political process, humanitarian affairs, economic affairs and rehabilitation – should start in the shortest possible time.
According to them, the immediate appointment of the participants in the working groups will ensure that actions can rapidly start to occur.
The foreign ministers instructed their deputies and the political directors to continue monitoring the implementation of the Minsk Agreement, with the emphasis on the quick launch of the working groups, as well as improving the security situation.
The talks in Berlin began at around 2100 on April 13 and lasted almost five hours. Ukrainian Ambassador to Germany Andriy Melnyk said the negotiations were "very hard."
Meanwhile in eastern Ukraine, there have been reports of heavy fighting in areas near Donetsk and Mariupol. There have been many reports of the use of heavy caliber weapons, which should have been withdrawn from the front line, by both sides.
The OSCE has also said on numerous occasions that it is unable to fully carry out its mandate in the east, as militants prevent its monitors from moving into some areas. Mission observers have also faced delays and restrictions on the Ukrainian side, with monitors being asked to state their nationality before being allowed past government checkpoints.
According to the OSCE, there are 23 Russian citizens among its monitors in eastern Ukraine.