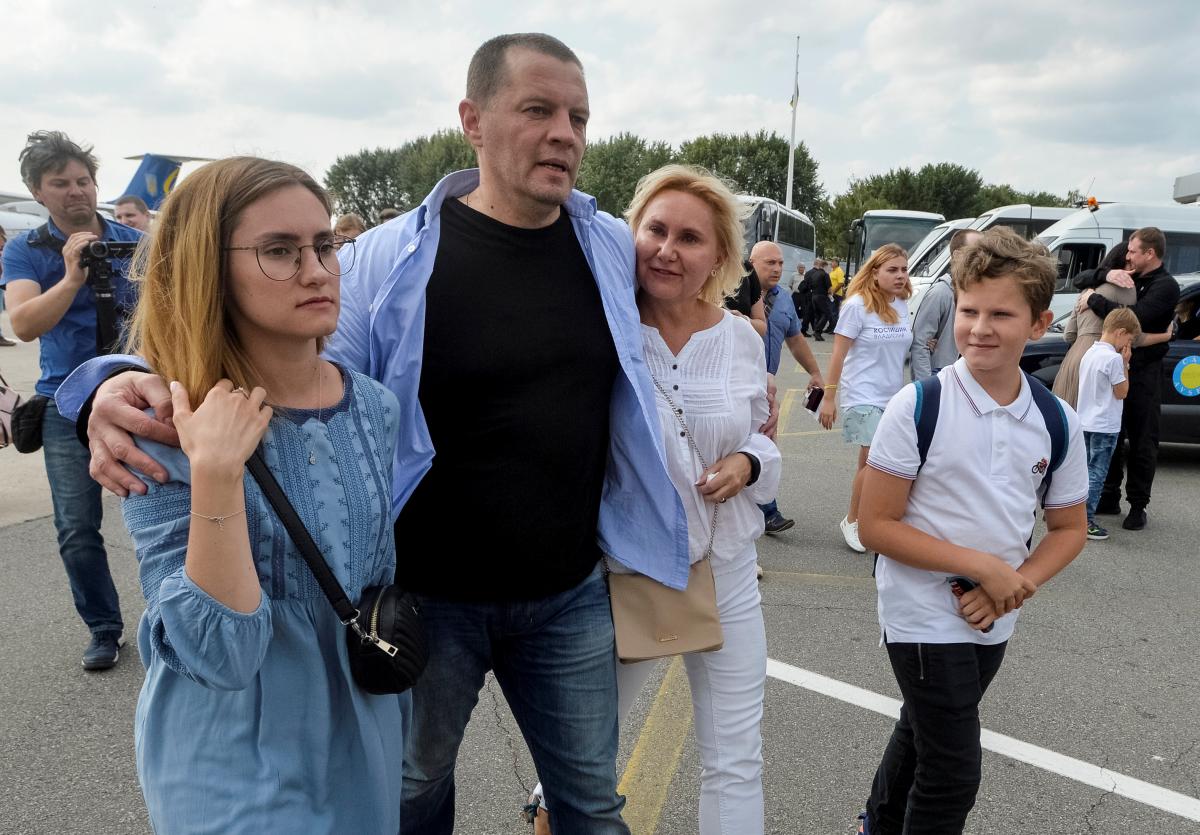 REUTERS
Ukrainian journalist Roman Sushchenko, recently freed from Russian captivity as part of the Ukraine-Russia prisoner swap, has expressed gratitude to Ukrainian President Volodymyr Zelensky, former President of Ukraine Petro Poroshenko, and French President Emanuel Macron.
"I would like to thank the two presidents, namely Volodymyr Zelensky and Petro Poroshenko, thanks to whom we are now talking, and my 34 brothers in misfortune who returned home," he said at a press conference in Kyiv on Sept 11.
Sushchenko also added that he had met with Poroshenko on Sept 10. He hopes he will meet with Zelensky, too.
"I would also like to thank French President Emanuel Macron, who was directly involved in this complex process, as well as our diplomats – from the foreign minister to consuls who worked on enemy's territory," he said.
Read alsoSushchenko: Russian special services preparing "brutal operation" for my detention for year
In addition, the journalist expressed gratitude to Ukrainian diplomats in other countries, international organizations, and his lawyers.
As UNIAN reported earlier, the FSB detained Ukrainian journalist Roman Sushchenko, a correspondent of the Ukrainian Ukrinform news agency, at a Moscow airport upon his arrival on September 30, 2016. He was charged with "espionage," as the Russian authorities insisted he was an "operative" of Ukraine's intelligence service. The court started considering the Sushchenko case on March 27, 2018. On June 4, the Moscow city court sentenced Sushchenko to a 12-year term in a high-security colony. On September 12, the Supreme Court of the Russian Federation upheld the ruling, overruling the lawyer's appeal. On November 7, Representative of Ukrainian journalist Roman Sushchenko at the European Court of Human Rights and his lawyer Mark Feygin said Sushchenko had been convoyed to a penal colony in Russia's Kirov region.
Twenty-four Ukrainian POW sailors captured by Russian special forces near the Kerch Strait in November 2018, and 11 political prisoners were returned by Russia to Ukraine as part of prisoner exchange on Sept 7. The political prisoners include Roman Sushchenko, Oleh Sentsov, Oleksandr Kolchenko, Volodymyr Balukh, Stanislav Klykh, Mykola Karpyuk, Oleksiy Syzonovych, Pavlo Hryb, Edem Bekirov, Yevhen Panov, and Artur Panov.
Commissioner of the Verkhovna Rada for Human Rights Liudmyla Denisova says 113 Ukrainians, including 89 Crimean Tatars, have been held in captivity by Russia as of today. Ten political prisoners were pardoned by the president of Russia; another one, Bekirov, was released on personal recognizance.