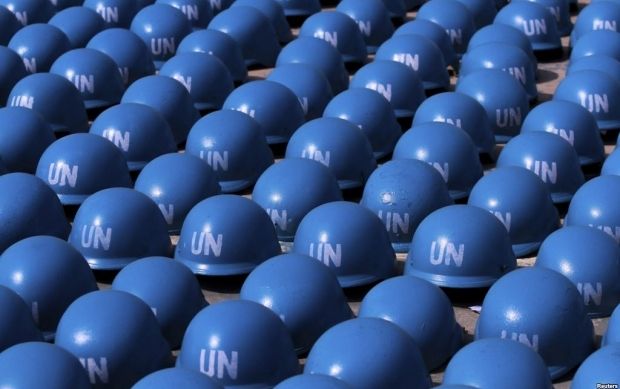 REUTERS
Ukrainian President Volodymyr Zelensky has said he remains cautious about the idea of deploying an international peacekeeping mission in Donbas.
"I am very cautious about this issue – peacekeepers in Donbas. I am ware that the previous authorities discussed the issues of how the peacekeeping mission could be introduced. Why am I cautious? I don't want to have an Abkhazian or Transnistrian scenario repeat in Donbas, where peacekeepers would stay on the contact line without going anywhere, because they are simply not allowed to do that. Therefore, I am very cautious about this issue," the president said during the 16th annual meeting of the Yalta European Strategy (YES) in Kyiv, an UNIAN correspondent reports.
According to the president, neither he nor the Ukrainian delegation at the Minsk talks has raised the issue of introducing a peacekeeping mission to Donbas.
Read alsoUkrainian peacekeepers almost indispensable for UN, NATO, other int'l organizations – Groysman
"I don't raise the topic of peacekeepers. We don't raise it. [Former Ukrainian President and Ukraine's representative to the Trilateral Contact Group at the Minsk talks on Donbas] Leonid Danylovych Kuchma is here – they don't raise this topic in the Minsk process," he said.
At the same time, Zelensky emphasized he would agree to the deployment of a peacekeeping mission on the Ukraine-Russia border .
"I would be happy if peacekeepers were deployed on the border of Ukraine and Russia. Please, we're inviting them there. That's the kind of a peacekeeping mission we're seeing would like to have their help there. That's the kind of a peacekeeping mission we want to see there," he added.
As UNIAN reported earlier, former Ukrainian Foreign Minister Pavlo Klimkin said Ukraine, the United States, Germany, and France had long prepared a joint draft resolution of the UN Security Council on the deployment of a peacekeeping force in Donbas.
Russia strongly opposes the introduction of peacekeepers in Donbas.