Ukraine's Foreign Ministry: Russia again violates captive pilot Savchenko's rights
Ukraine's Ministry of Foreign Affairs has published an official protest in connection with a ruling by Moscow's Basmanny court on April 17, which did not satisfy a complaint lodged by lawyers of Nadia Savchenko, a Ukrainian pilot, Member of Parliament and member of the Ukrainian delegation to PACE, who was abducted from Ukraine and is now detained in a Moscow jail.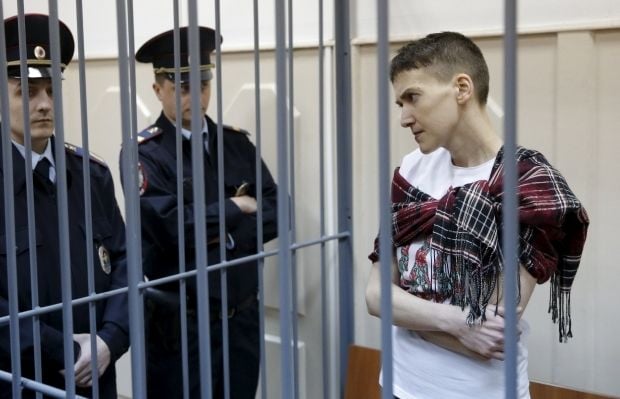 REUTERS
The complaint was against Russian investigators' refusal to close the Savchenko case due to the absence of the event of the crime.
This is announced in a statement by Ukraine's Foreign Ministry.
According to the statement, this decision once again demonstrates disregard by the Russian side of universal norms of international humanitarian law, its reluctance to take into account numerous appeals by the international community that demand the release of Savchenko.
"The Ministry of Foreign Affairs of Ukraine has once again called on the Russian side to take into account the humanitarian aspect of Nadia Savchenko's further stay in custody and demanded the unconditional fulfillment by the Russian Federation of its international obligations, including under the Minsk [peace] agreements, the immediate release of the Ukrainian citizen and her return to Ukraine," the statement said.
Russian human rights activist Vladimir Shreidler was able to record exclusive footage of the April 17 Moscow court hearing where Nadia Savchenko was addressing the judges and the public. The video is available on his Facebook page.
Начну с благодарности адвокатам Николаю Полозову, которого давно знаю и уважаю Nikolay Polozov и Илье Новикову Илья Нови...

Posted by Владимир Шрейдлер on 17 Апрель 2015 г.
Footage by Russian human rights activist Vladimir Shreidler
If you see a spelling error on our site, select it and press Ctrl+Enter