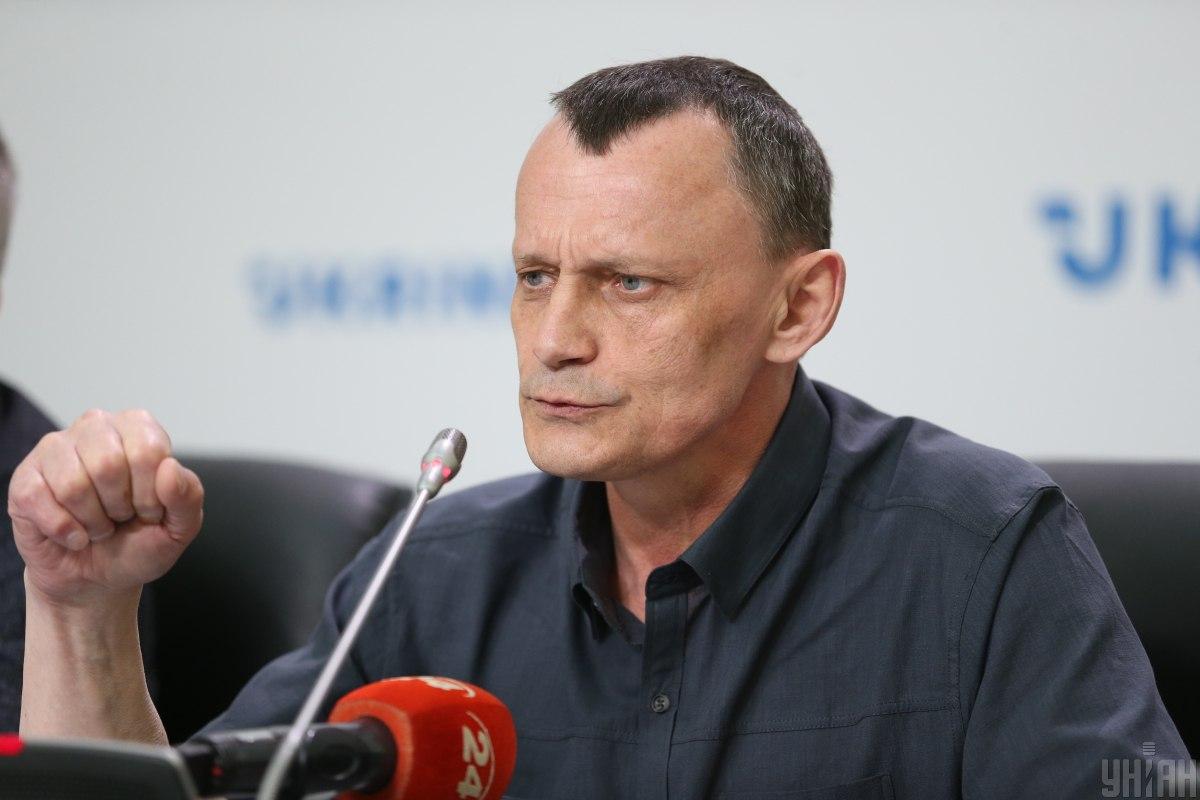 Photo from UNIAN
Mykola Karpiuk, one of political prisoners released from Russian prisons and returned to Ukraine as part of a major prisoner swap held Sept 7, said that FSB operatives nabbed him in March 2014 right after he crossed from Ukraine, heading on a trip to what he thought was meet with top Russian authorities, as a close family friend had claimed.
"A good friend of mine, someone who baptized my son and whom I trusted very much, turned to me with the idea that Putin and his entourage are really willing to meet with the Right Sector leadership," Karpiuk told a Kyiv press conference Sept 17.
He admitted that he had done a 'really stupid thing' by traveling to Russia and that he hadn't expected he would be arrested as he had never committed any criminal offense on Russian territory.
"I thought the worst thing I could face was being deported," he added.
"It was supposed to be a preliminary conversation with Putin or someone from his entourage, on whom the further meeting between Putin and [leader of the Right Sector Organization dmytro] Yarosh depended. Trusting the person who was organizing the process and realizing that we are on the verge of a war with the Russian Federation, and we have a real chance to maintain peace, a decision was made about to do that trip. We drove by car, and on the Russia-Ukraine border, a special FSB team arrested me and sent me to Yessentuki, in shackles," said the former prisoner.
Read alsoFirst interview with released Kremlin prisoner Pavlo Hryb: "In Lefortovo, I was held in a single cell. They would not put Ukrainians together"
According to Karpiuk, it was only later that he realized that it had been a very well-planned operation, designed to arrest someone from the Right Sector leadership to "wage splits in in the formation of the Right Sector as a political party."
As UNIAN reported earlier, Karpyuk, along with Stanislav Klykh, who was detained in Russian Orel in August 2014, were accused of "participation in a gang", murder and attempted murder of Russian military personnel.
The Russian investigation claimed that Klykh and Karpiuk set up groups in Ukraine during the first Chechen war to participate in battles against Russian troops for an independent Chechnya.
In addition, the investigation claimed Karpiuk allegedly took part in such battles in late 1994 and early 1995.
Both men were also accused of participation in UNA-UNSO (two separate organizations), banned in Russia since 2014.
In May 2016, the Chechen Supreme Court sentenced Karpiuk to 22.5 years in a maximum security colony, and Klykh – to 20 years.
Read alsoU.S. calls on Russia to release all unjustly imprisoned Ukrainians
The Russian human rights watchdog "Memorial" recognized Karpiuk and Klykh political prisoners.
On Sept 7, twenty-four Ukrainian prisoners of war and 11 political prisoners, including Klykh and Karpiuk, returned to Ukraine as part of an exchange of held persons with Russia.