Klimkin calls on EU to establish mission in support of Minsk agreements
The beginning of the mission of the Joint Security and Defense Policy in support of the Minsk agreements should be a significant EU contribution to bringing peace to the Donbas, Ukrainian Foreign Minister Pavlo Klimkin said at a meeting of foreign ministers of the EU and Eastern Partnership initiative countries in Luxembourg on Tuesday.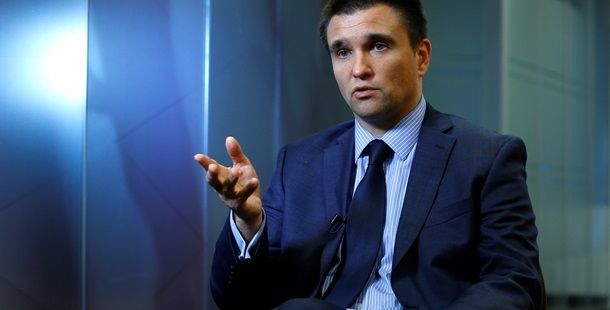 REUTERS
The event was devoted to preparing for the next Eastern Partnership summit in Riga on May 21-22, the press service of the Ministry of Foreign Affairs of Ukraine told an UNIAN correspondent.
Speaking at the plenary session, Klimkin presented a vision of Ukraine following the possible outcomes of the Riga Summit and the further development of the Eastern Partnership initiative.
"Ukraine, Georgia and Moldova, which have concluded association agreements with the EU, are facing common tasks and challenges in the context of the implementation of these agreements and the establishment of a free trade area with the EU," he said.
Klimkin also called for the creation of a separate format of cooperation within the Eastern Partnership that would unite these three countries and take into account the new multi-speed dynamics of the initiative.
He also urged the EU to take advantage of the ongoing review of the European Neighborhood Policy for further improvement of cooperation with the union's eastern partners.
"In this regard, the key strategic issue that will affect the future success of the Eastern Partnership is to provide interested eastern partners with the prospect of EU membership, subject to the necessary criteria," Klimkin said.
Taking into account the new geopolitical context and security context in the region due to the ongoing Russian aggression against Ukraine, Klimkin said there was a need to further strengthen cooperation with the eastern partners of the EU in the framework of the EU's Common Security and Defense Policy.
"A significant contribution of the EU in stabilizing the situation in the Donbas should be the beginning of the mission of the Joint Security and Defense Policy in support of the Minsk agreements," he said.
According to Klimkin, the progress on liberalization of a visa-free regime and the signing of the Agreement on Joint Aviation Area between Ukraine and the EU are among the possible concrete achievements of the Eastern Partnership summit in Riga that are of particular interest to Ukraine.
If you see a spelling error on our site, select it and press Ctrl+Enter