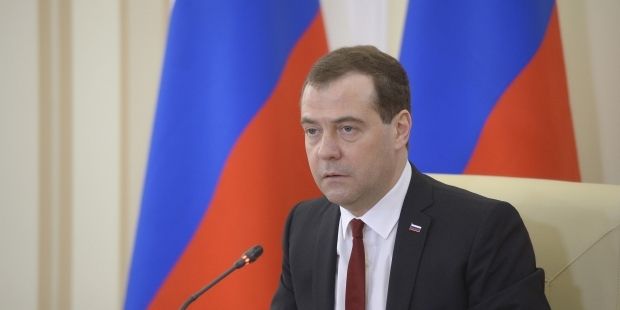 REUTERS
"There are moments in the history of each state that give way to a new era. The year of 2014 became that one for modern Russia," he said.
"I am sure that the last year for all of us and for the whole country was the year of Crimea, which again became a part of Russia," Medvedev said.
"The annexation of the Ukrainian peninsula was a legal formulation of what had already been known and felt by all the parties of the Kerch Strait," he said.
"The Crimean peninsula, despite his formal post-Soviet borders, has always been our land; it was our common pain, and our common pride, and our common challenges and our common victory," Medvedev said.
"For many of us, the return of the Crimea was the restoration of historical justice, which could be compared by its strength and importance with the fall of the Berlin Wall and German reunification, or the return of Hong Kong and Macao to China," he said.
As UNIAN reported earlier, Russia annexed the Ukrainian territory of Crimea in March 2014 after ordering its troops to leave their bases, in unmarked uniforms, and seize or surround key Ukrainian military bases and airports.
On March 16, 2014 the Russian-backed authorities in Crimea organized an illegal referendum and claimed that almost 100% of those who took part had voted for Crimea to join Russia. Most countries denounced the vote as a sham, and have refused to recognize Russia's annexation of Ukrainian territory.
On March 18, 2014, in the Kremlin, Russian President Vladimir Putin and representatives of the Crimean authorities signed an agreement between the Russian Federation and the Republic of Crimea on the joining of the Republic of Crimea to Russia and establishing a new subject within the Russian Federation.