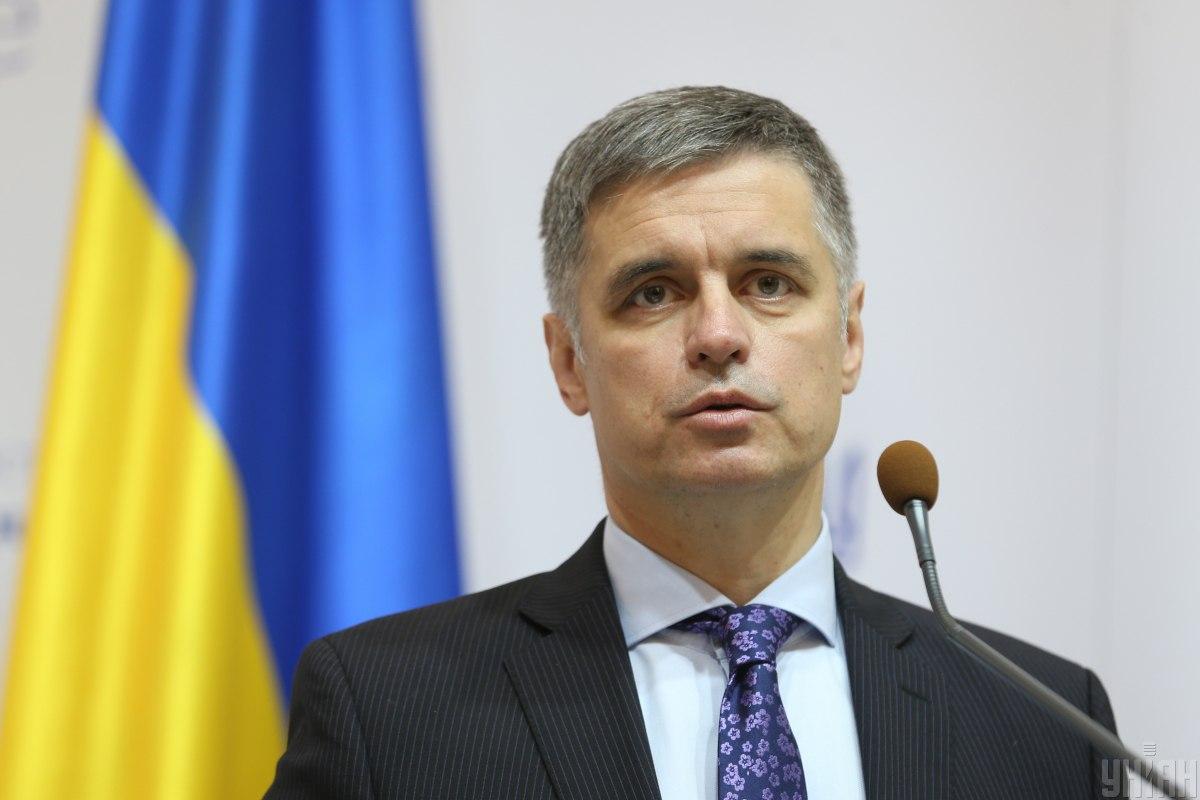 Photo from UNIAN
The leaders of Ukraine, Russia, France, and Germany could hold a summit in Paris in mid-November if Kyiv and pro-Russian forces in eastern Ukraine can maintain a ceasefire, Ukraine's foreign minister said on Monday, warning of a "last chance" for Moscow.
Speaking before addressing EU foreign ministers in Luxembourg, Ukraine's Foreign Minister Vadym Prystaiko told Reuters the summit would have to follow a seven-day ceasefire and the withdrawal of light weapons from the east.
"I'm still hopeful, otherwise we wouldn't even be trying," Prystaiko said. "We have some dates ... we are aiming for the middle of next month, somewhere around mid-November."
"We've told everyone openly that we are making maybe the last honest attempt to follow the Minsk path," he said, referring to the original 2014-2015 peace deal signed in the Belarusian capital.
"If it doesn't work, we will have to look to some plan B," Prystaiko added, although he declined to say what that might be.
Read alsoUkraine's FM Prystaiko has no intention to talk with his Russian counterpart
As UNIAN reported earlier, during the "press marathon" held Oct 10, President of Ukraine Volodymyr Zelensky said he expected the Normandy Four summit's date would be named next week. The president hopes that leaders of the four participating states – Ukraine, Russia, Germany, and France – will meet in November.
In turn, Vladimir Putin's aide Yuriy Ushakov said that the date of the summit has not yet been discussed, but given the Russian president's schedule, it was unlikely to be held in October.
Russia put forward a condition for the meeting between the leaders of Ukraine and the Russian Federation: Kyiv must first sign the so-called "Steinmeier formula", which was agreed upon at the September meeting of presidential advisors.
The disengagement of forces in Petrivske and Zolote is another condition for the holding of the Normandy Four summit.
On Oct 1, President of Ukraine Volodymyr Zelensky announced that an agreement had been reached at the meeting of the Trilateral Contact Group for the Donbas settlement on the start of  disengagement of forces in the said areas.
On Oct 7, Ukrainian Foreign Minister Vadym Prystaiko stated that the disengagement of troops in Petrivske and Zolote, which was supposed to start on that day, would not take place, since the enemy violated the agreement.
In turn, the Kremlin claimed Ukraine on Oct 9, "under a far-fetched pretext" of shelling, foiled the disengagement near the settlements of Zolote and Petrivske.