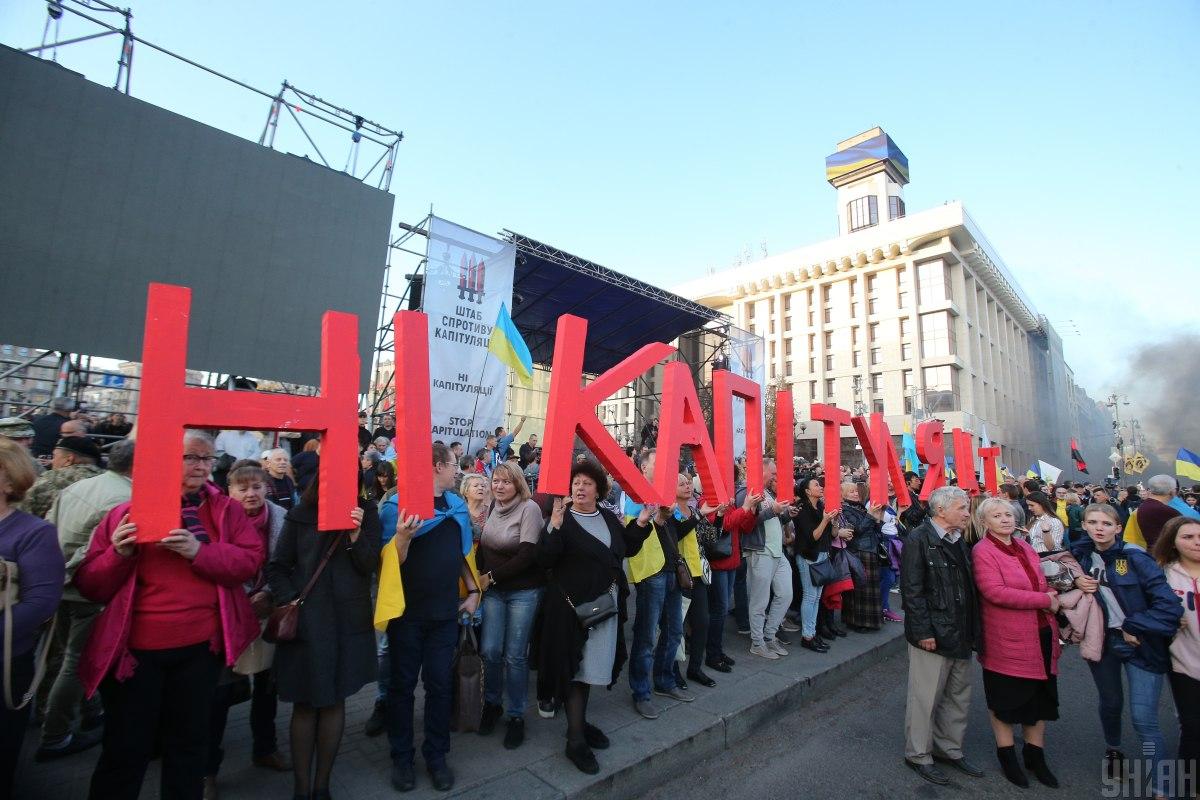 Photo from UNIAN
Activists who are taking part in a "No Surrender" march in Kyiv on Defenders Day demand that President of Ukraine Volodymyr Zelensky either pursue victory in the Donbas war or resign, according to an UNIAN correspondent.
Organizers of the march, participants in the Russian-Ukrainian war in Donbas, addressed the crowd at the "viche", or a popular meeting, that took place at the Maidan Nezalezhnosti Square downtown Kyiv.
After that, a rally was held outside the President's Office.
War veteran Oleksandr Pohrebynsky said that the withdrawal of Ukrainian troops in Donbas (disengagement from the line of contact is not a normal situation. He appealed to President Volodymyr Zelensky, Foreign Minister Vadym Prystaiko and other top officials to "look in the eyes of the mothers of fallen soldiers" before deciding to disengage forces.
Pohrebynsky also demanded that Presidential Office chief Andriy Bohdan apologize for claiming that the latest viche held October 6 was a "paid rally".
"Mr. Zelensky, either you move the country to victory, or you step down," he added.
Some activists called for Bohdan's resignation.
Read alsoUkraine sees hope for "last chance" peace summit in mid-November – Reuters
Speaking at the rally, a Ukrainian historian and TV host Vitaliy Haidukevych expressed the opinion that the so-called "Steinmeier formula" for the Donbas settlement is designed to "surrender Ukraine."
He cited a historical analogy between today's developments with the approval of the Steinmeier formula with the events of 1938, when British Prime Minister Neville Chamberlain and Adolf Hitler signed the Munich Agreement.
"This Steinmeier formula is essentially a Munich conspiracy-2. This time, when they want to strike a deal with Putin, they are ready to kill Ukraine," said Haidukevych.
At the same time, a veteran of the Azov regiment, Dmytro Kukharchuk, raised concerns that, if today the Ukrainian Armed Forces withdraw from Donbas, then "the enemy will be in Kyiv tomorrow."