Deputy Prosecutor General: No charges against Tabachnik, Kliuyev, Lukash and Yanukovych Jr.
No charges have been laid against officials of the former regime of President Viktor Yanukovych Dmytro Tabachnik, Serhiy Kliuyev, Olena Lukash and Viktor Yanukovych Junior, Deputy Prosecutor General Vitaliy Kasko said at an international conference "Searching for and management of seized and confiscated assets in Ukraine and the world."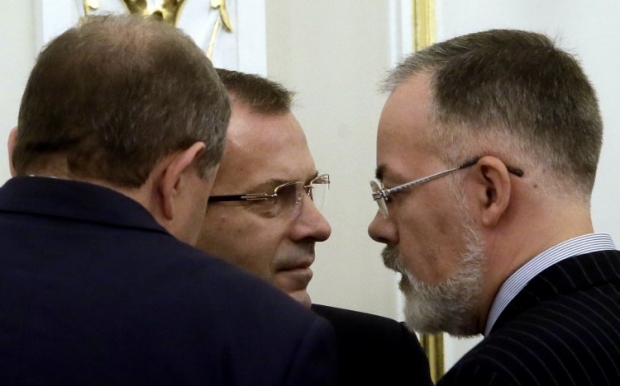 UNIAN
According to Kasko, 14 persons subject to EU sanctions were charged with suspicion of theft and misappropriation of state property.
At the same time, he stressed that no charges have been made against four officials from the team of ousted former Ukrainian President Viktor Yanukovych - Dmytro Tabachnik, Serhiy Kliuyev, Olena Lukash and Viktor Yanukovych Jr.
Kasko said the EU sanctions are political rather than legal in nature.
"The lack of suspicion of theft of state property has resulted in the suspension of sanctions against Igor Kalinin (a former advisor to Yanukovych), Oleksandr Yakymenko (ex-chariman of the Security Service of Ukraine), and Oleksiy Azarov. Moreover, there was no prolongation of the sanctions against Andriy Portnov, despite the fact that a justified suspicion was made against him. This suggests that the sanctions are more political in nature rather than legal. The extension or lifting of sanctions depends not on the legal aspects, but on the course of talks held by the EU countries," Kasko said.
According Kasko, despite the fact that the law allows for trial in absentia, to date, no criminal proceedings have been initiated against former officials who fled Ukraine.
As UNIAN reported earlier, in early March, the European Union extended for a period of one year the sanctions in respect to 14 ex-officials of the former regime of Viktor Yanukovych, and until June 6 – with regard to four Ukrainian ex-officials.
The list of sanctions that were subject to extension does not include former advisers to Yanukovych Andriy Portnov and Ihor Kalinin, former chairman of the SBU Oleksandr Yakymenko and a son of the former Prime Minister Mykola Azarov – Oleksiy Azarov.
Sanctions against Olena Lukash, the former Minister of Justice, Dmytro Tabachnik, the former Education and Science Minister, and Ukrainian businessman Sergiy Kliuev, will expire in June.
Sanctions have been extended for one year with regard to ex-President Viktor Yanukovych, his son Oleksander Yanukovych, former Prime Minister Mykola Azarov, former Prosecutor General Victor Pshonka and his son Artem, former Interior Minister Vitaliy Zakharchenko, the former chairman of the presidential administration Andriy Kliuyev, former Deputy Minister of the Interior Minister Viktor Ratushniak, businessman Serhiy Kurchenko, former Health Minister Raisa Bogatyreva, businessman Yuriy Ivaniushchenko, ex-Minister of Fuel and Energy Eduard Stavitsky, a former chairman of the Security Service of Ukraine Oleksandr Klimenko, and ex-Deputy Prime Minister Sergiy Arbuzov.
If you see a spelling error on our site, select it and press Ctrl+Enter