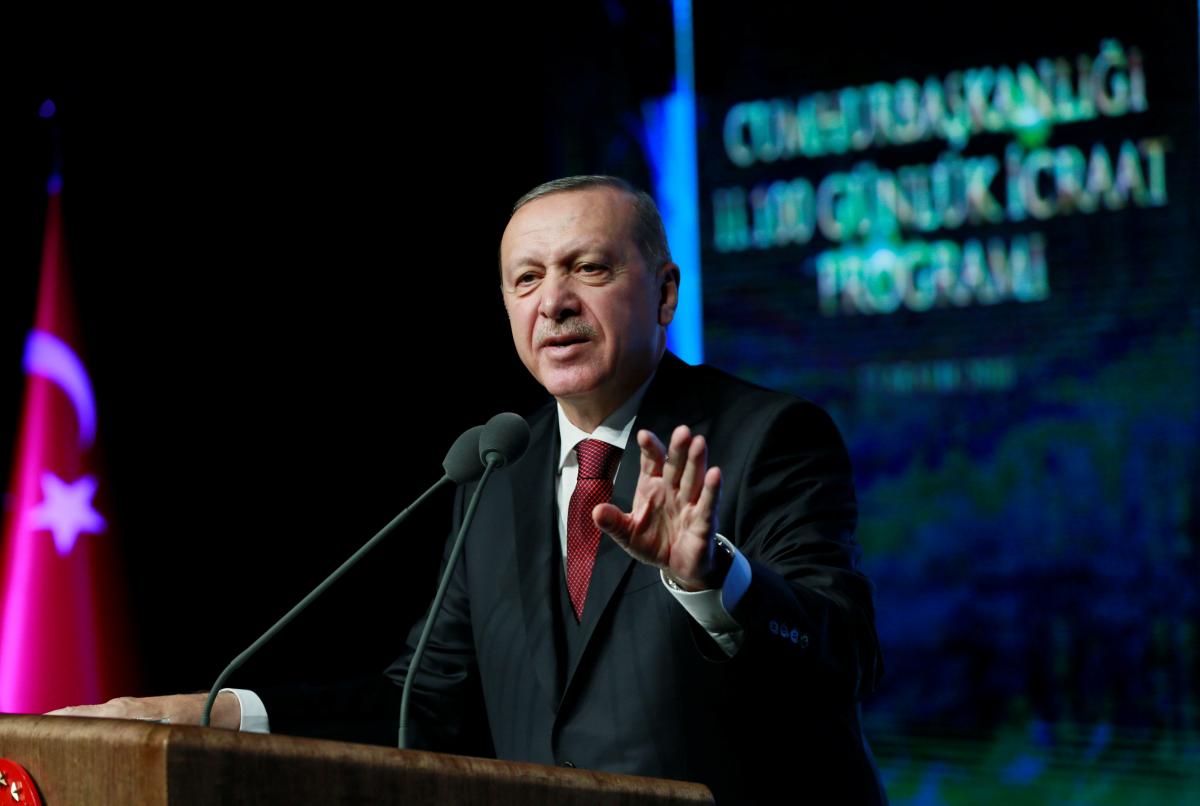 REUTERS
Turkish President Recep Tayyip Erdogan's handshake with the Russian "deputies" from the occupied Crimea, caught on camera, was an accident, since Ankara never agreed the lists of participants in an international forum held in Istanbul, where the moment was captured, says press secretary of the Ministry of Foreign Affairs of Ukraine, Kateryna Zelenko, citing a Turkish ambassador.
In the immediate follow-up of the incident, the foreign ministry summoned Turkish Ambassador Yagmur Ahmet Guldere, Hromadske recalls.
"And today we had a very frank conversation about what kind of event it was and how it happened that these notorious 'deputies' emerged on the list of participants in this forum. The ambassador clearly noted that there was nothing deliberate about this, and that this was not a targeted act," Zelenko said.
She noted that Ukraine expressed concern that the Turkish side had not taken action to prevent participation of the said three so-called "deputies".
At the same time, the ambassador said that the Turkish Foreign Ministry was not involved in agreeing on the lists of forum participants.
Zelenko also emphasized that the case once again demonstrated that one has to be very careful with Russian media reports that claimed an alleged separate meeting held between Crimean "deputies" and President Erdogan.
Read alsoUkraine sends note of protest to Turkey over Erdoğan's meeting with "Crimean lawmakers"
"Actually, this is a protocol event, and, as the protocol has it, the head of state congratulated all the participants in the forum, and these two 'deputies' also took part in the handshake ceremony," the Foreign Ministry spokeswoman explained.
According to Zelenko, the case is yet "another provocative attempt to wedge a split between Ukraine and Turkey."
She added that both Turkey's ambassador and Foreign Ministry assured the Ukrainian side that Ankara had always supported Ukraine in protecting its territorial integrity and state sovereignty. Turkey's position on protecting the Crimean Tatar community and non-recognizing the attempt of Crimea annexation by Russia has remained unchanged.
As UNIAN reported earlier, on October 13 certain media reported an alleged meeting held at an international forum Oct 11 between Turkish President Recep Tayyip Erdogan and a Russian parliamentary delegation with two "State Duma deputies" from the annexed Crimea among them – Natalya Poklonskaya and Ruslan Balbek.
The Ukrainian Foreign Ministry sent Turkey a note of protest, while the Mejlis of the Crimean Tatar people branded the incident a "Kremlin provocation".