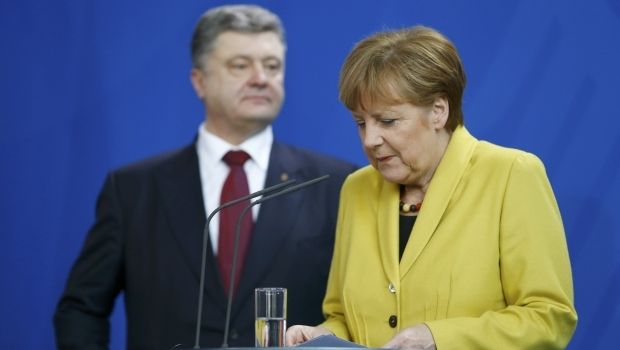 REUTERS
"Speaking by phone, the two parties stressed the need for full implementation of the Minsk agreements by all parties. They also discussed the work of the Tripartite Liaison Group and the OSCE special monitoring mission," the report says.
Poroshenko and Merkel also discussed issues in the context of EU-Ukraine relations and the preparations for the Eastern Partnership summit in Riga.
A ceasefire was supposed to have come into force in Ukraine on February 15, three days after talks on implementing a previous peace plan were held in Minsk. Poroshenko and Merkel attended those talks, along with French President Francois Hollande and Russian President Vladimir Putin. However, the Russian-backed militants in the Donbas broke the ceasefire within an hour, and went on to attack and capture from Ukrainian forces the town of Debatltseve on February 18.
Almost daily violations of the ceasefire have occurred since then, with the intensity of fighting rising sharply over the last two weeks, and many in Ukraine now expect a resumption of full-scale fighting before summer.
Fighting has been particularly intense in the village of Shyrokyne near the government-held city of Mariupol. The village, which is mostly held by the militants, includes strategic heights, currently held by government forces, that would be a military objective if the militants planned to move on Mariupol.
The militants have said several times that they intend to capture Mariupol.