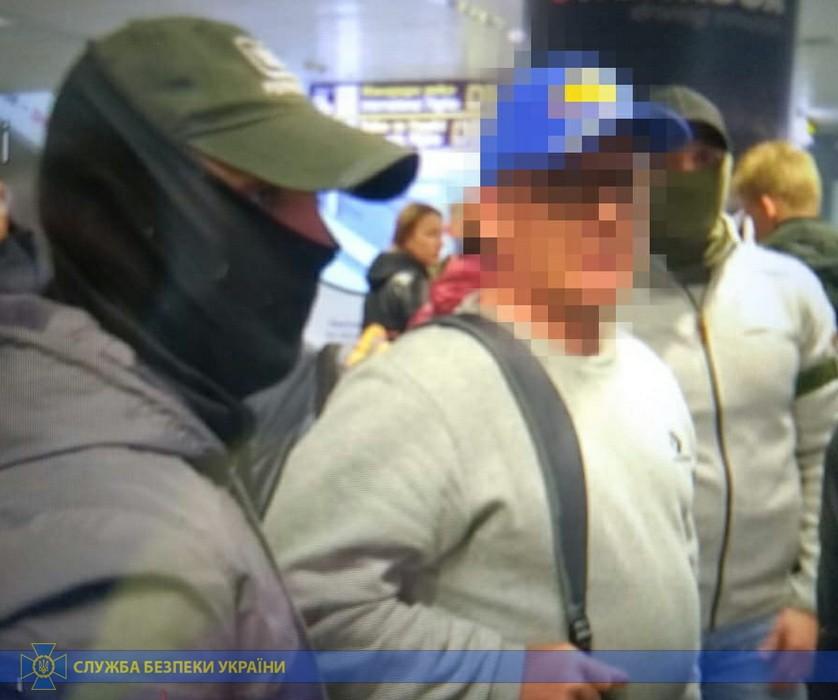 The ex-official is suspected of treason / Photo from the SBU press service
The SBU Security Service of Ukraine has detained a former deputy economy minister, who is suspected of treason related to causing large-scale damage to the country's defense sector.
SBU officers and investigators established that the high-ranking official of the Ministry of Economic Development and Trade of Ukraine, officials of state-owned enterprise Ukrainian Center Bezpeka ("Security") and state joint-stock Artem Holding had acted contrary to the interests of Ukraine in favor of a foreign company, the SBU press center said.
Photo from censor.net.ua
The suspect's identity has not been not disclosed, but the media outlet Censor.net reports that it is Yuriy Brovchenko.
"They concluded a deliberately unprofitable contract with foreigners for the manufacture and supply of a production line to produce artillery shells totaling more than US$16.5 million. As a result of the illegal deal, an advance payment worth than US$8.2 million was transferred to bogus offshore firms' bank accounts and stolen by those who participated in the scheme. What is more, the foreign company has not supplied the equipment to Ukraine. The suspects' actions endangered the delivery of ammunition to the Armed Forces amid Russian aggression," the SBU said.
The ex-official was notified of charges under Part 1 of Article 111 (high treason) of the Criminal Code of Ukraine.
As UNIAN was informed by an informed source in law enforcement agencies, the ex-deputy minister, Yuriy Brovchenko, was detained.
Read alsoSBU suspects ex-deputy economy minister of subversive activities in favor of Russia
As UNIAN reported earlier, it became known on October 17 that the SBU was investigating into possible subversive activities by Ukraine's former deputy economy minister in conspiracy with other persons to harm Ukraine's defense capabilities in the interests of a foreign state (Russia).
According to court materials, a U.S. citizen, fulfilling the task of Russia's special services to obtain information about plans for supplies of weapons and ammunition to Ukraine's Armed Forces, arrived from Russia to Ukraine in August 2015 to establish contacts with employees of the economy ministry and the state-owned enterprises involved in the implementation of the state defense order.
Having learned about the Ukrainian side's intentions to establish serial production of 152mm/155mm shells with their subsequent supplies to the Ukrainian army, the U.S. citizen entered into a criminal conspiracy with the ex-deputy economy minister and Bezpeka's CEO to carry out subversive activities against Ukraine.
"So, in pursuit of criminal intentions, the said individuals, not intending to supply equipment to Ukraine, arranged the conclusion of classified contract No. 11 of December 15, 2017, between state-owned Bezpeka and state-owned Artem Holding to carry out a state defense order for the procurement and transfer of equipment to ensure technical re-equipment and reconstruction of existing production facilities required for serial production of 152mm and 155mm shells until December 30, 2019," the court documents say.