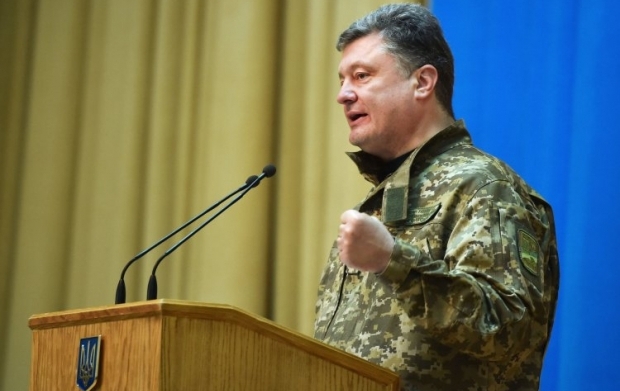 Poroshenko tasks government agencies to complete the construction of fortification facilities /Photo from UNIAN
He announced this while meeting with chairmen of state district administrations, the presidential press service said.
In particular, he called the increase of the efficiency of the Armed Forces as a top priority for the government.
According to the president, there have been reports about numerous attempts to destabilize Ukraine from both outside and inside the country recently. Under such conditions, it is especially important that a strong force be available.
Poroshenko said he had got information that illegal armed groups in eastern Ukraine were planning to launch an offensive in the second half of May.
In this connection, he set a task to accelerate and ensure strict adherence to the fortification construction schedule. "It has become a nationwide issue today," he said.
Poroshenko noted he was in general satisfied with the results of the fourth wave of mobilization. In certain districts, the level of mobilization even exceeded 100%. "Truly strong interaction between the local government and the population has been demonstrated in these districts," he added.
"The country is capable of defending itself. The fourth wave of mobilization demonstrates the highest morale and the best level of preparedness. I was convinced of that during the first large-scale brigade-level drills in the past twenty years. The military exercise involved all our airmobile brigades that have already been operating under conditions that are very close to the combat ones," he said.
The president described mobilization as the most important task for state district administrations' heads. "On April 27, the fifth wave of mobilization started. Each district administration head will be personally responsible for its successful organization," Poroshenko said.
Speaking about internal threats, he said that the Security Service of Ukraine had informed him about the detainment of 18 persons in Odesa region who were planning acts of sabotage in Odesa early this May. "We will not allow them to destabilize the situation. We have already learned how to counter such attempts," Poroshenko stressed.
The president also informed that 18,500 law enforcement officers and 1,200 National Guard servicemen would be involved in keeping law and order during the May holidays in Ukraine. It will be the first time when volunteers plan to join the action. The May holidays will be a test whether the Ukrainian special services and law enforcement agencies are able to meet the present-day requirements, he added.