Right Sector vows to stop Communist march in Kyiv on May 1
The Right Sector organization will not allow people to parade with communist symbolsin the Ukrainian capital Kyiv on May 1, according to the organization's spokesman Artem Skoropadsky, Ukrainian news portal theinsider.ua has reported.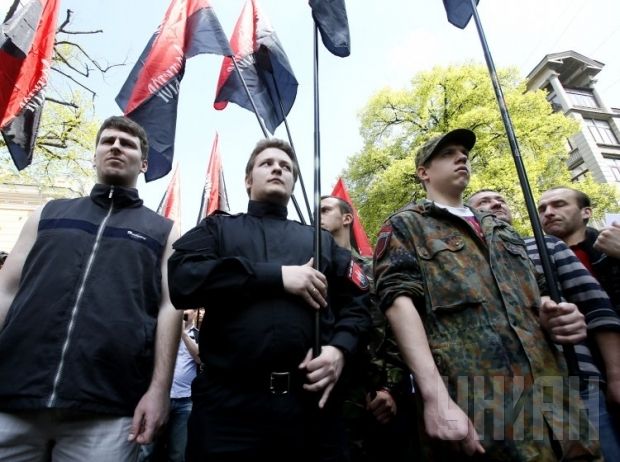 UNIAN
"[We are] appealing for national defence activity, which means the protection of the honour and dignity of the Ukrainian people by all available means and methods," Skoropadsky said.
Skoropadsky also said that Right Sector would fight back against "other left-wing, anti-Ukrainian forces."
Celebrations in Kyiv on May 1 and 9 were formerly accompanied by mass actions planned by the Communist Party of Ukraine.
However, the public display of communist and Nazi symbols was recently banned in Ukraine under a controversial law passed by parliament. 
As reported earlier, the leader of the Communist Party Petro Symonenko said he intends to hold a march in Kyiv, with the participation of foreign communists.
Right Sector, an extremist nationalist organization, was created and rose to prominence during the Maidan mass public protests against the regime of ousted former President Viktor Yanukovych in 2014.
The organization, controversial for its links to far-right and neo-Nazi groups, was heavily involved in physically resisting attempts by Yanukovych's Berkut riot police to clear the Maidan protest sites in central Kyiv.
Since the start of the conflict in eastern Ukraine, volunteers from the organization have been fighting in their own irregular military unit against Russian-backed militants in the Donbas.
If you see a spelling error on our site, select it and press Ctrl+Enter