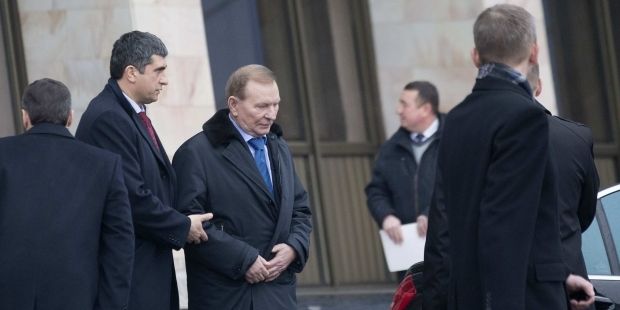 REUTERS
Dariia Olifer, the press secretary of former Ukrainian President Leonid Kuchma, Ukraine's official representative in the contact group, said a meeting took place on May 5 between Kuchma, OSCE representative Heidi Tagliavini, and Russia's newly appointed representative to the group, Azamat Kulmuhametov.
"It is expected that on May 6 Minsk will host a meeting of the Trilateral Contact Group with representatives of the so-called 'DNR' and 'LC,'" Olifer said in a post on Facebook made on Monday, referring to the militant organizations that have seized control of parts of eastern Ukraine.
Tensions have been rising in Ukraine over the past few days as the Ukrainian military reported a huge increase in the number of attacks on Ukrainian forces by militants, to levels not seen since the Minsk agreement of February 12 brought a temporary lull in the fighting. The OSCE, charged with monitoring the ceasefire, has also noted a large increase in violations.
The Russian-backed militants almost immediately violated the ceasefire that had been agreed in Minsk to start on February 15, and continued to attack the Ukrainian-held town of Debaltseve.
The fighting died down slightly after February 18, when the militants captured Debaltseve following the withdrawal of Ukrainian forces from the town under fire.
But fighting soon erupted again in the areas around Donetsk airport and the village of Shyrokyne, which is in the south of Donetsk region, near the port city of Mariupol.
The militants have said several times that they could go on to attack and capture Mariupol, and extend the area under their control to the whole of Donetsk and Luhansk regions, and even into further Ukrainian regions, such as Kharkiv oblast. The militants currently control about a third of the combined areas of Donetsk and Luhansk regions.
Speaking on Russian television in mid-April, the leader of the Donetsk People's Republic said it would be easy for the militants to attack Mariupol
"We will free our compatriots," Alexander Zakharchenko said, referring to Russian-speaking Ukrainians living in Mariupol.
"About 23,000 soldiers are under my command, while another 30,000 people are on standby. It is very easy to take the flank of Mariupol. Do not forget that our mothers and sisters live there."