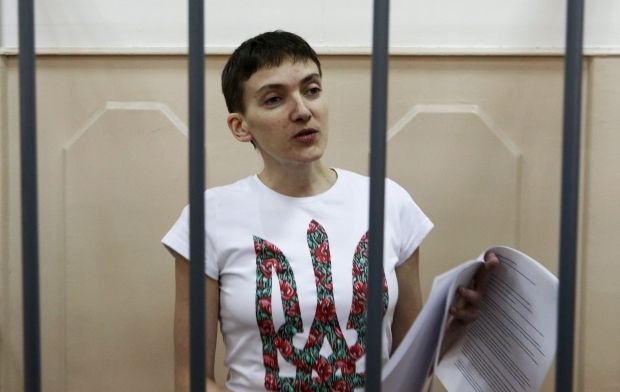 REUTERS
Savchenko lawyer Nikolai Polozov tweeted shortly after the hearing that Savchenko was suffering from heart pains and that an ambulance had been called to the court.
"These bastards want to send [Savchenko] to the grave!" Polozov tweeted.
The lawyer's tweet reporting that an ambulance had been called was time-stamped 1549. There is no information at this time as to Savchenko's whereabouts or condition.
The Russian court earlier refused to recognize Savchenko's immunity as a member of the Permanent Delegation of Ukraine to the Parliamentary Assembly of the Council of Europe (PACE), despite the fact that the PACE itself fully recognizes her immunity.
Savchenko, an elected Ukrainian MP from the Batkivshchyna party, was made a member of Ukraine's PACE delegation by a vote of Ukraine's parliament, the Verkhovna Rada.
The press service of Batkivshchyna said that Savchenko lawyer Mark Feygin had stated that if the court failed to satisfy the plea for recognition of Savcehnko's diplomatic immunity, "her defense lawyer will continue proceedings and make submissions for an appeal."
 "Apart from that, we will certainly consider moves towards more practical actions in the PACE," Feygin said.
"That is, we will agree on a set of tools that will cause a response in relation to this court decision."
As reported by the press service of the Batkivshchyna party, two hearings were to be held on Wednesday in Moscow's Basmanny District Court to consider a complaint from Savchenko's defense regarding the refusal by investigators to let the Ukrainian MP attend a meeting of the PACE, and regarding the extension of her detention until November 13.
As UNIAN reported earlier, Savchenko was abducted by Russian-backed militants in the Donbas in the summer of 2014, and then taken to Russia, where she was charged with being involved in the death of Russian journalists.
Savchenko went on hunger strike on December 15, initially in protest at being denied medicines she required, and then in protest at her conditions of detention.
On April 24 the Russian Investigative Committee brought final charges against Savchenko. In addition to the charges of being involved in the murder of two Russian journalists in eastern Ukraine last June, Savchenko was accused of illegally crossing the Russian border.
On April 30 the European Parliament passed a resolution calling on Russia to immediately release Savchenko.