Kuchma says 'major steps towards a political settlement' taken at Minsk meeting
Serious steps were taken towards reaching a political settlement of the conflict in eastern Ukraine, former Ukrainian President Leonid Kuchma said after a meeting with militant representatives in Minsk on Wednesday.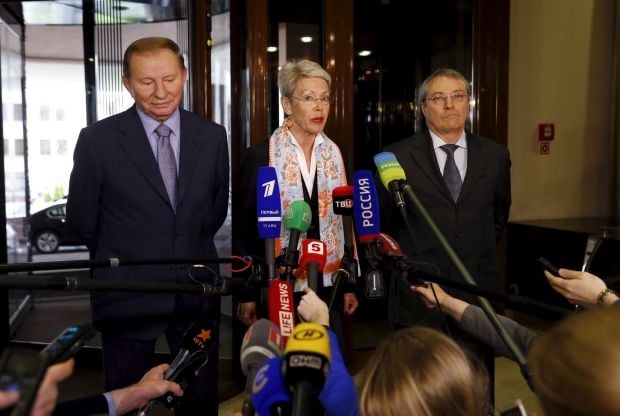 REUTERS
The meeting of the Trilateral Contact Group, which was set up under the earlier-reached Minsk agreements, was also attended by Russian representative Azamat Kulmuhametov and OSCE representative Heidi Tagliavini.
Kuchma said the talks had been "constructive," according to a report by Radio Liberty, while Kulmuhametov also said the talks in Minsk had given hope "for a political solution" to the conflict.
The meeting participants discussed the setting up of working groups on implementing the Minsk agreements. OSCE representative Heidi Tagliavini said that the first of these groups would start its work on May 19.
The Minsk agreements were first reached last September, but the ceasefire they proposed and other measures were never implemented, and fighting continued. The leaders of Ukraine, Russia, France and Germany met again in Minsk on February 12 and signed another agreement on implementing the first agreement, but again this has failed to change much on the ground in eastern Ukraine.
Under the latest Minsk agreement, yet another ceasefire was declared – this time to come into effect on February 15. The agreement also said there should be a pullback of heavy weapons by both sides out of range of the front line between the two sides.
However, the Russian-backed militant violated the agreement almost immediately by failing to observe the ceasefire and launching an offensive to capture the town of Debaltseve in Donetsk region on February 18.
The OSCE, which was charged with monitoring the implementation of certain points of the Minsk agreements, has also noted numerous ceasefire violations by both sides, and has not been able to confirm the proposed pullback of heavy weapons.
Both sides have accused each other of violating the ceasefire and the terms of the Minsk agreement on many occasions.
Ukraine and the West accuse Russia of supporting the militants in the Donbas. Moscow denies the charges, saying that there are no Russian military in the Donbas, but that there are "volunteers."
However, a large and growing body of evidence, including interviews in the Russian press with Russian soldiers who have fought in Ukraine, shows that Russian troops are in fact heavily involved in the fighting in eastern Ukraine, and that Moscow may even have started the conflict in the first place.
The fighting in the Donbas has been continuing since April 2014. The insurgency started about a month after Russia invaded and illegally annexed the Ukrainian territory of Crimea.
If you see a spelling error on our site, select it and press Ctrl+Enter