SBU to question Akhmetov company managers on financing of miners' demos
Ukraine's SBU state security service has summoned managers of businesses owned by billionaire Ukrainian oligarch Rinat Akhmetov for questioning over their involvement in funding miners' protests in Kyiv in March and April.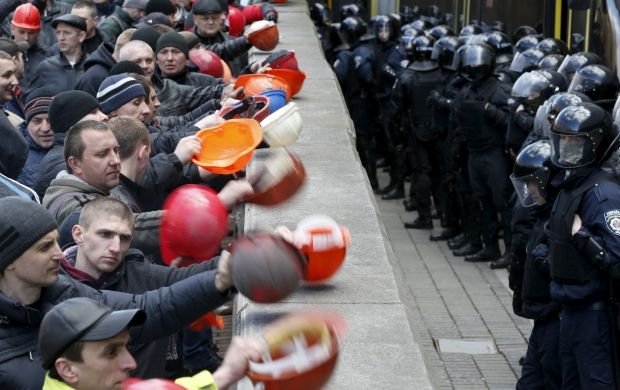 REUTERS
SBU head Valentyn Nalyvaychenko said this while speaking on Thursday at the National Academy of the Security Service of Ukraine, during a memorial service for SBU officers killed in Ukraine's counterinsurgency operation, an UNIAN correspondent has reported.
"We, the SBU, are investigating a criminal case related to the illegal funding from abroad of provocative activities in Kyiv, [which were] carried out under the pretext of a so-called miners' protest," Nalyvaychenko said.
"We have arrested the so-called 'financial couriers' who, from Moscow, from the office of the former [Ukrainian] Prime Minister [Mykola Azarov], brought the money, and detained their accomplices, who organized and financed the protests in Kyiv.
"Also, the SBU summoned for questioning the top management of companies … owned by [Rinat Akhmetov] in relation to the same criminal case."
The head of the SBU said that since the investigation is still ongoing, he cannot disclose any other details of the case.
As UNIAN reported earlier, in April, the SBU opened a criminal case on the funding by private coal mining companies of miners' protests in Kyiv, and the blocking of the work of state government bodies.
The SBU says it has evidence the protests were used to put pressure on the government, with the aim of destabilizing it and seizing power. It said it had evidence of that those behind the protests had funded the arrival and activities in the Ukrainian capital of provocateurs and other troublemakers.
"Due to the fact that from April 22-24 [the management] of certain private coal-mining companies of Ukraine, guided by vested corporate interests, and to put pressure on the public authorities, organized the financing of protests in Kyiv combined with blocking the work of the public authorities, SBU investigators have opened criminal proceedings under Article 110-2 Part 2 of the Criminal Code of Ukraine," the press center of the SBU said in a statement.
"As part of the criminal proceedings, [SBU] operational and investigative units are carrying out interrogations, searches and detentions," the press center said.
On April 27 Interior Minister Arsen Avakov said that only half of the protesters in Kyiv were actually miners, while the rest of the participants were hired by the protest organizers.
During the protests, journalists spotted rally participants each being paid sums of from UAH 50 to UAH 85 ($2.38 to $4) after the events. A number of those taking part in the rallies, when interviewed by journalists, appeared to be unsure why they were participating.
If you see a spelling error on our site, select it and press Ctrl+Enter