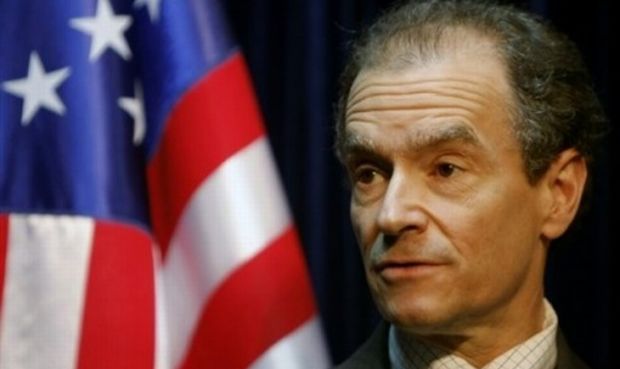 Daniel Fried: US promises tough response to any Russian aggression against Ukraine / Photo from voicesevas.ru
"Any movement of Russian troops will see a strong response," Fried said.
"We should be ready to increase pressure if Russia resorts to aggressive actions on a larger scale," he said.
Fried also said that any failure by Russia to fulfill the Minsk agreements by the end of this year would lead to a strengthening of the sanctions that have already been imposed, and said there was agreement with the European Union regarding this issue.
"Europe, fortunately, is more united and more focused than one might have thought. Europe has introduced and is maintaining the sanctions," Fried said. 
He also said he thought it would be premature to talk about lifting sanctions against Russia.
"I would like to see a situation whereas Russia fulfills the Minsk agreement and [we] begin to lift sanctions. [But] we are not yet at this stage."
Western countries introduced sanctions on Russia following its invasion and illegal annexation of the Ukrainian territory of Crimea. The sanctions were enhanced after Russia then fomented and fueled an armed conflict in eastern Ukraine.
According to reports from the Ukrainian military, NATO and U.S. government sources, the militants in eastern Ukraine may be preparing another offensive against Ukrainian forces in the east of the country.
Under the Minsk peace agreement of February 12, both sides were supposed to have kept a ceasefire from February 15, and then withdrawn their heavy weapons out of range of the front line.
However, the militants broke the ceasefire almost immediately, going on the attack and capture the government-held town of Debaltseve on February 18.
Although parts of the front line between the two sides have been quieter since the supposed introduction of the latest ceasefire, the areas around Donetsk airport and Shyrokyne near Mariupol have seen practically non-stop fighting since the Minsk accords were signed.
According to the Ukrainian side, the government has lost control of 28 towns and villages since the signing of the Minsk accords, and the militants are increasingly using heavy weapons against Ukrainian positions, in violation of the Minsk agreement.
The OSCE, the organization charged with overseeing the implementation of the ceasefire and weapons pullback, on Thursday said it had heard the sound of Grad multiple rocket launchers being used near the front line for the first time since the supposed ceasefire was to have taken effect. The organization has also noted a large increase in the number of ceasefire violations in recent days.
The militants and Russia have accused Kyiv of not sticking to its obligations under the Minsk agreement, and also accuse Ukrainian forces of violating the ceasefire.