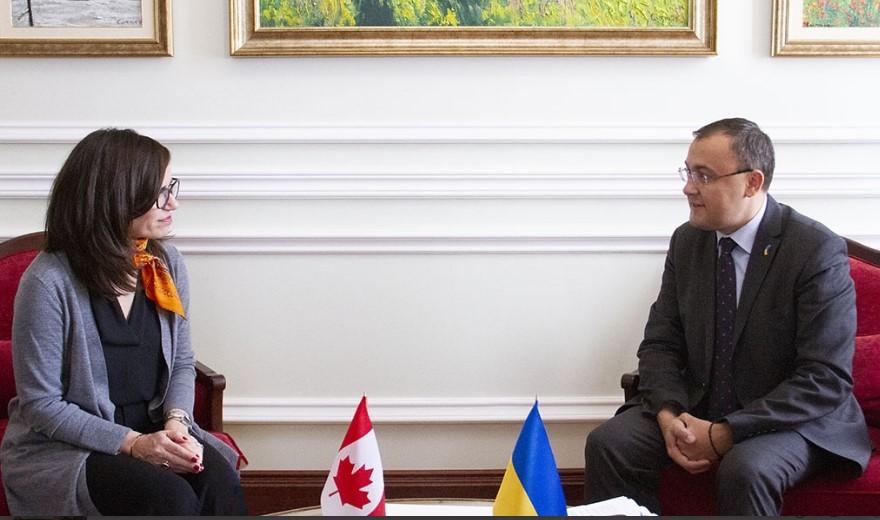 Galadza (left) and Bodnar (right) Photo from Ukraine's Foreign Ministry
Newly appointed Ambassador of Canada to Ukraine Larisa Galadza has arrived in Ukraine.
She delivered a copy of credentials to Ukraine's Deputy Minister of Foreign Affairs Vasyl Bodnar on November 26, according to the Foreign Affairs of Ukraine.
Read alsoCanada, Britain, France greet Ukrainians on Day of Dignity and Freedom
Bodnar and Galadza discussed priority issues for further deepening the Ukrainian-Canadian special partnership.
Special attention was also paid to the situation over Russian aggression, humanitarian issues, liberalization of the visa regime for Ukrainian citizens, youth exchanges, interaction with the Ukrainian community in Canada, as well as the development of the legal framework of bilateral relations.
As UNIAN reported earlier, Galadza was appointed Canadian Ambassador to Ukraine in early November. She succeeded Roman Waschuk, who had represented Canada in Ukraine since 2014.
Galadza in 1994 received a bachelor's degree with honors in Political Science and Ethics at Trinity College, Toronto, and in 1996 a master's degree in International Affairs from Carleton University, Ottawa. After training in 1996, she began working at the Department of National Defense of Canada. In 2016, she became director general of the Peace and Stabilization Operations Program at Global Affairs Canada.