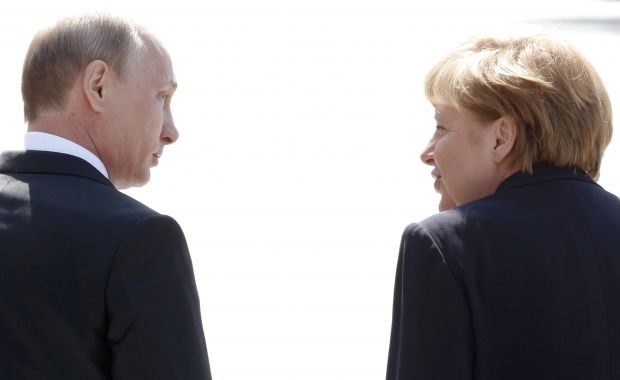 REUTERS
Not since the end of the Cold War have U.S-German relations loomed so large in international affairs. Ongoing Russian intervention in Ukraine has been met with U.S. and European economic sanctions against Moscow. But Germany's geographic proximity and commercial ties to Russia give Berlin and Washington different stakes in the confrontation. With NATO warning of a new Russian buildup in Ukraine and the approaching European Union decision in July on whether to continue its sanctions, there is an ever-present specter of a split in NATO over the long-term trajectory of the alliance's dealings with Russia.
The centrality of the U.S.-German relationship in dealing with Russia was underscored by the back-to-back meetings with Russian President Vladimir Putin, by German Chancellor Angela Merkel on May 10 followed by U.S. Secretary of State John Kerry on May 12.
So far, the Ukraine crisis has yet to drive a wedge between Washington and Berlin. Roughly seven-in-ten (72 percent) Americans see Germany as a reliable ally and about six-in-ten (62 percent) of Germans see the United States in a similar light, according to a new Pew Research Center survey conducted in association with the Bertelsmann Foundation.
Despite some evidence in 2014 that Germans might have preferred to keep their distance from both Moscow and Washington, today a majority of Germans (57 percent) believe it is more important for their country to have strong ties with the United States than with Russia. Just 15 percent of Germans prefer strong ties with Russia and only 21 percent volunteer that it is best to have an equally close relationship with both.
But there's some interesting internal geography at play. East and West Germans differ in their views: While 61 percent of Germans living in the West favor a strong affiliation with America, just 44 percent of people living in the East agree. And while 23 percent of people in the East voice support for strong ties with Russia, only 12 percent of those in the West agree. Old habits die hard.
On the issue of Ukraine, when asked if it is more important to be tough with Russia or maintain a strong economic relationship, half of Germans voice the view it is more important to be tough. In spite of Germany's long-standing trade, investment, and energy ties with Russia, only about a third (35 percent) of Germans express the opinion that it is better to have a strong economic relationship with Moscow. Notably, younger Germans, ages 18 to 29, are much more supportive (53 percent) of standing up to Russia over Ukraine than are older Germans 65 years of age or older (36 percent).
But that doesn't mean there is a willingness to ratchet up sanctions in the future. Americans and Germans disagree about the nature of the current U.S. and EU posture toward Russia over Ukraine.
Americans want to up the pressure on Moscow, while most Germans do not support a tougher stance. 
More than half of Americans (54 percent) believe that U.S. policy toward Russia is not tough enough. And 59 percent say the EU is not being strong enough.
At the same time, roughly six-in-ten Germans (62 percent) think the U.S. position with regard to Russia is too tough (27 percent) or about right (35 percent). Similarly, 62 percent of Germans believe that EU actions against Russia are too strong (18 percent) or about right (44 percent). At the same time, only 23 percent of Germans think Washington is not tough enough, the third option offered respondents. And 26 percent believe the European Union is not aggressive enough.
Such disagreements about what to do regarding Russia are rooted in deeper differences over the use of military force. Surveys have consistently shown that Germans are far less supportive than Americans regarding the use of military force to maintain order in the world: in 2011 75 percent of Americans voiced the view that force is sometimes necessary compared with only 50 percent of Germans. More than 80 percent of Germans supported Berlin's decision to not use military force in Iraq, according to Pew Research surveys at the time. In Afghanistan, where Germany had troops, by 2010 and 2011, majorities of Germans wanted NATO and U.S. troops withdrawn. And Germany abstained in the United Nations vote on intervention in Libya. Indeed, the latest Pew Research survey finds a distinct German reticence about taking on more of the global security burden. Asked if Berlin should play a more active military role in helping to maintain peace and stability in the world, only 25 percent of Germans agree. Just over two-thirds (69 percent) believe that, given its history, Germany should limit its military role in world affairs.
Americans, however, have little of this historical baggage: a majority would welcome Germany taking on more strategic responsibilities. More than half (54 percent) think Berlin should play a more active military role, while only 37 percent say it should limit its security activities. The book-end meetings with Putin by Merkel and Kerry are clearly no accident. They are intended to send Putin a message that Germany and the United States are united in their opposition to his actions in Ukraine. But the new Pew survey indicates the two allies' publics may be sending a different message.
The German-American disagreement about how tough to be with Russia, coupled with differences over the use of force in general and specifically Germany's future military role in the region, suggest that the mutual trust in each other as allies and Germans' preference for closer ties with the United States could be put to a test in any new confrontation with Russia. What may be at stake is not just the sanctions regime drawing a noose around the Kremlin, but rather the alliance between Berlin and Washington.