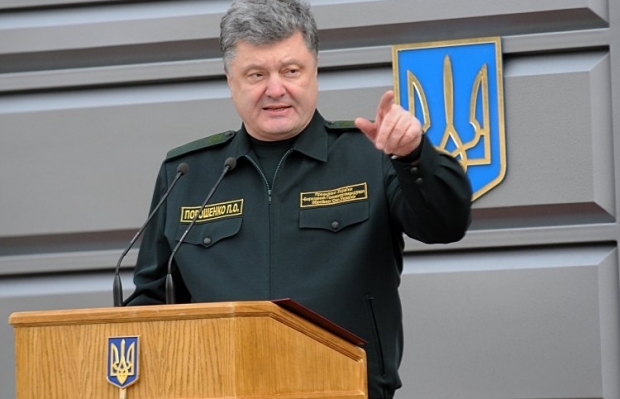 Poroshenko demands the Minsk peace agreements should be fully implemented / Photo from UNIAN
Ukraine demands that the signatories to the Minsk agreements, primarily the Russian Federation, should fully adhere to the Minsk Implementation Plan, including the protocol dated September 5, 2014, the memorandum dated September 19, 2014, and a complex of measures agreed on February 12, 2015, Ukrainian President Petro Poroshenko underlined.
He announced this at an enlarged meeting with the Ukrainian representatives in the working subgroups of the Trilateral Contact Group for a peaceful resolution to the Donbas conflict on Saturday, which was also attended by Ukrainian Prime Minister Arseniy Yatsenyuk, Secretary of the National Security and Defense Council Oleksandr Turchynov, and representatives of law-enforcement agencies, the presidential press service reported.
The Minsk Implementation Plan includes, according to the president, the ceasefire verified by the OSCE and the withdrawal of heavy weapons from the line of contact in Donbas.
Addressing Ukraine's representative in the working subgroup on security Yevhen Marchuk, Poroshenko stressed the importance of retaking control of those sectors of the Ukrainian-Russian border that are not controlled by Ukraine now. One should put an end to the illegal intrusion of heavy weapons and mercenaries onto the Ukrainian territory, he added.
Those present at the meeting also expressed the need for the immediate release of all prisoners of war. This issue tasked to the subgroup on humanitarian affairs, represented by Iryna Heraschenko and Viktor Medvedchuk, was recognized as a top-priority one.
"On the agenda was also an issue how to coordinate [efforts] with international organizations to ensure the smooth delivery of humanitarian relief aid to Donbas with observance of all international procedures," the press service said.
Poroshenko also warned the Ukrainian representative in the subgroup on political issues, Volodymyr Horbulin, that a dialogue on the modality of holding a local election in Donbas could start only after the full ceasefire and withdrawal of heavy weapons verified by the OSCE.