Pushkov: Ukraine has nothing to offer West except confrontation with Russia
Russia can give Western countries more than Ukraine, while Kyiv can only offer confrontation with the Kremlin, Chairman of the State Duma's Foreign Affairs Committee Aleksey Pushkov wrote on Twitter on Monday.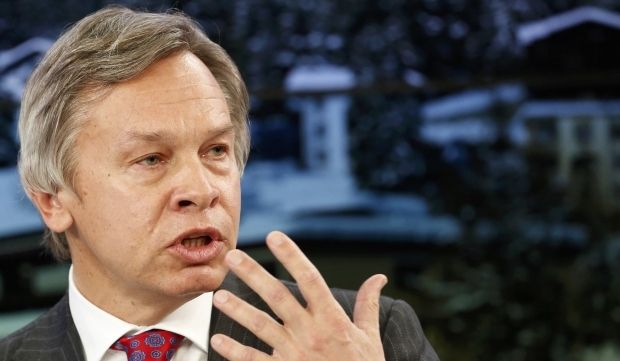 REUTERS
"Time is against Ukraine. It has nothing to offer the West, except for a confrontation with Russia. Russia can offer far more," he wrote.
As UNIAN reported earlier, Pushkov said that western sanctions against Russia would be extended until the end of 2015 because of the position of Kyiv.
Sanctions were imposed on Moscow by the West after Russia invaded and then illegally annexed the Ukrainian territory of Crimea in March 2014.
Russian troops in unmarked uniforms surrounded Ukrainian defense bases, forcing Ukrainian servicemen to surrender or defect to the Russian side. Within two weeks, Russia had arranged and held a sham referendum, observed by "election monitors" drawn from European far-right and fascist parties.
Russian President Vladimir Putin at first said no Russian soldiers were involved in the takeover of Crimea, but has since admitted that they were in fact there.
Russia also says none of its regular troops are involved in the fighting in eastern Ukraine.
If you see a spelling error on our site, select it and press Ctrl+Enter