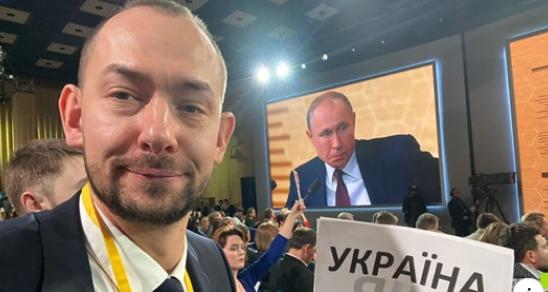 facebook.com/RomanTsymbaliuk
UNIAN correspondent in Russia Roman Tsymbaliuk has continued on social media a dispute with Russian President Vladimir Putin saying that the Ukrainian army uses mainly Soviet-built tanks.
"As for Ukrainian tanks in Kuban. Vladimir Vladimirovich entered into a discussion regarding Ukrainian main battle tanks. He says the T-64 is a Soviet tank. As if we have nothing of our own. The tank is indeed Soviet, but we have the Ukrainian upgraded model 'Bulat,'" the journalist wrote on Facebook on December 19.
Read alsoEx-NSDC chief Turchynov comments on Putin's statement about "originally Russian territories" in Ukraine
Tsymbaliuk said Russia also largely uses upgraded Soviet tanks.
"In particular, T-72B3 upgraded tanks fought against us in Donbas. Such tanks are in service in the Russian Armed Forces only. They were definitely not exported to Ukraine. They arrived on their own," the journalist added.
As UNIAN reported earlier, a dispute over Ukrainian tanks erupted between Putin and Tsymbaliuk at an annual press conference in Moscow on December 19.
Tsymbaliuk said he had no problem working in Russia but if Ukrainian tanks had been in Kuban, Russia would have also changed its attitude toward Ukraine. "Do you mean the [T-]72nd or the [T-]34th models?" Putin then asked Tsymbaliuk.
The T-72 is a family of Soviet main battle tanks that first entered production in 1971. The T-34 is a Soviet medium tank, first introduced in 1940.
"The T-64 is our main battle tank. It is manufactured in the city of Kharkiv," Tsymbaliuk told Putin.