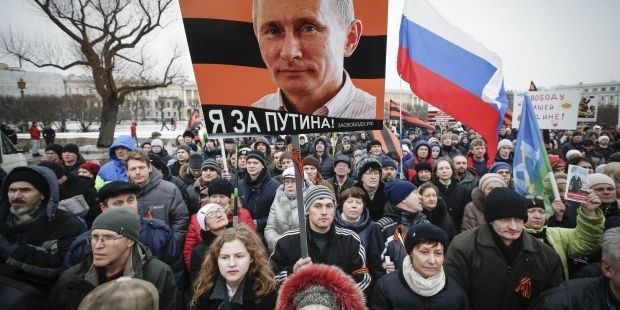 REUTERS
According to the report, 86% of respondents said in May 2015 that they approved of the president's policies.
At the same time, a total of 13% of respondents had a negative attitude towards Putin's policies, while only 1% of respondents didn't answer.
According to Levada-Center, in May 2014 Putin's policies were supported by 83% of Russians, while in May of 2013 they were supported by 64% of respondents.
A total of 60% of respondents believe that things in Russia are "going in the right direction," the opposite opinion is shared by 23% of respondents, and 17% couldn't answer.
The activities of Prime Minister Dmitry Medvedev as head of the Russian government are approved by 63% of respondents, 36% do not approve them, and only 1% of respondents didn't answer.
In general, a total of 59% of respondents support the government of the Russian Federation, 40% do not approve of it, and only 1% of respondents couldn't answer.
The poll was conducted on May 22-25. A total of 1,600 people aged from 18 were questioned in 46 regions of Russia. The poll's margin of error is no more than 3.4%.