Lev Parnas / REUTERS
The House Intelligence Committee released new evidence on Tuesday related to the impeachment inquiry of President Donald Trump, including information turned over by Lev Parnas, an indicted former associate of Trump's personal attorney Rudy Giuliani.
The release, which reflects the unfinished nature of the House's impeachment inquiry, comes ahead of an expected House vote on Wednesday to formally send the impeachment articles to the Senate for a trial, POLITICO reported.
"Despite unprecedented obstruction by the president, the committee continues to receive and review potentially relevant evidence and will make supplemental transmittals," Intelligence Committee Chairman Adam Schiff (D-Calif.) wrote Tuesday to Judiciary Committee Chairman Jerry Nadler (D-N.Y.), whose panel is responsible for compiling the complete record of the investigation ahead of the Senate's trial.
Read alsoU.S. House Intel Committee gets video, audio recordings from Giuliani associate Parnas
The material released on Tuesday contains several handwritten notes, emails, encrypted messages, and other documents that underscore the close relationship between Parnas and Giuliani, who was actively pursuing an effort last year to push the Ukrainian government to announce investigations targeting Trump's political rivals. The documents also complicate one of Trump's oft-stated defenses of his actions toward Ukraine.
A previously undisclosed May 2019 letter from Giuliani to Ukrainian President Volodymyr Zelensky is among the tranche of documents the Democrat-led committee made public on Tuesday.
In the letter, which was obtained from Parnas' cell phone that was turned over the Intelligence Committee on Sunday, Giuliani asked for a half-hour meeting with Zelensky as the former New York City mayor was pursuing investigations targeting former Vice President Joe Biden — and Giuliani made clear that he was acting with Trump's "knowledge and consent" and in his capacity as a "personal" attorney for the president. Trump, though, has stated that he was acting on behalf of the U.S. government when he allegedly pushed for the investigations.
"In my capacity as personal counsel to President Trump and with his knowledge and consent, I request a meeting with you on this upcoming Monday, May 13th or Tuesday, May 14th," Giuliani wrote in the letter, which was obtained from a screenshot contained on Parnas' phone.
One of the documents included in the disclosure is a handwritten note by Parnas that states: "Get Zelensky to announce that the Biden case will be investigated."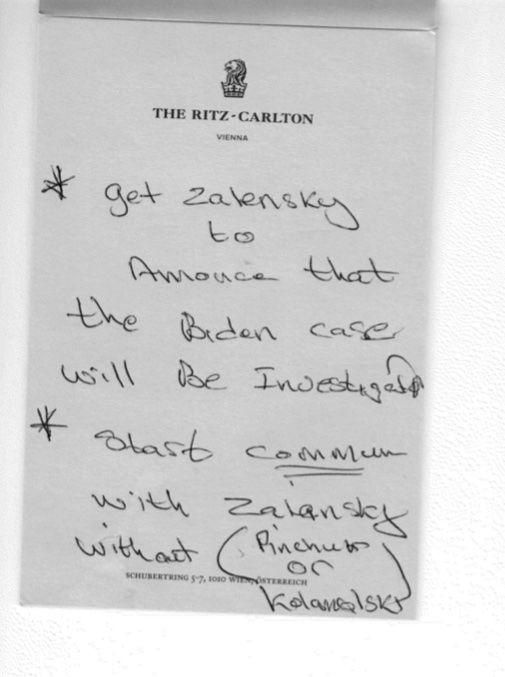 Image from intelligence.house.gov
Another refers to Lanny Davis, the attorney representing Trump's former attorney and fixer Michael Cohen: "Get rid of Lanny Davis (nicely!)"
Former Ambassador to Ukraine Marie Yovanovitch was also a frequent target in text messages between Parnas and his allies. In some texts, it appeared that Yovanovitch's very movements were being tracked amid a rising frustration that she was not already ousted.
Both Giuliani and Parnas were subpoenaed as part of the House's impeachment inquiry. Giuliani has refused to comply, while Parnas was granted permission from a federal judge earlier this month to release the contents of his devices, which were seized by the U.S. Attorney's Office for the Southern District of New York when he was arrested, to the Intelligence Committee in compliance with the subpoena.
Parnas was arrested on October 9 at Dulles International Airport outside Washington. He was charged with campaign finance violations involving the steering of foreign dollars into American elections. Parnas has pleaded not guilty to the charges.