REUTERS
The U.S. House of Representatives Intelligence Committee has released correspondence between Lev Parnas, an ally of U.S. President Donald Trump's personal attorney Rudy Giuliani, and Ukrainian Interior Minister Arsen Avakov, SBU Chief Ivan Bakanov and former Prosecutor General Yuriy Lutsenko.
"In early May 2019, Parnas reached out to Ivan Bakanov, a close aide to Zelensky, asking for help in connecting with President Volodymyr Zelensky," the U.S. House Permanent Select Committee on Intelligence said in a document posted on its website while commenting on excerpts of WhatsApp messages between the officials.
It is noted Parnas also sent Bakanov an article dated May 9 from The New York Times, which outlined Giuliani's agenda in Ukraine, including investigations into the Bidens. Parnas also connected on this topic with Serhiy Shefir, a close aide to President Zelensky, however, their conversation was short.
"The first WhatsApp message from Parnas to Arsen Avakov, Ukraine's Minister of Interior, was sent on April 15, 2019.˂…˃ In this message, Parnas wrote that he was in Kyiv and wanted to meet. Avakov proposed a meeting at noon the following day. It is not clear if they met then, but they stayed in touch and met at the end of April," the document says.
Screenshot
Screenshot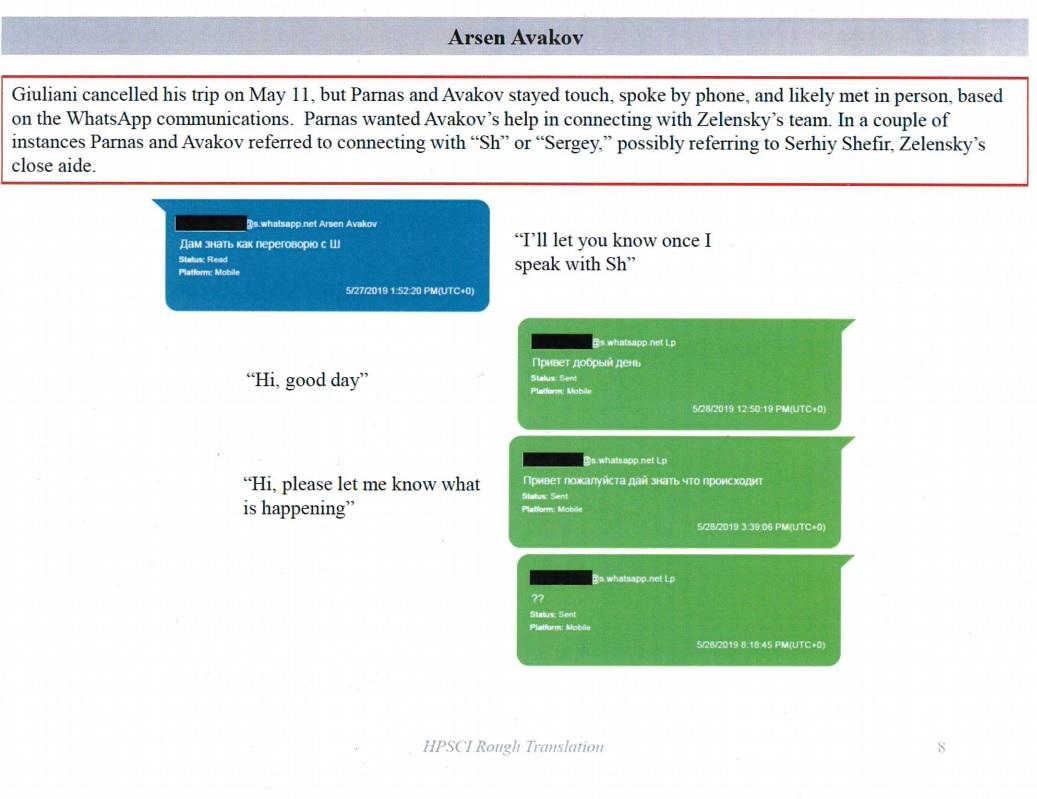 Screenshot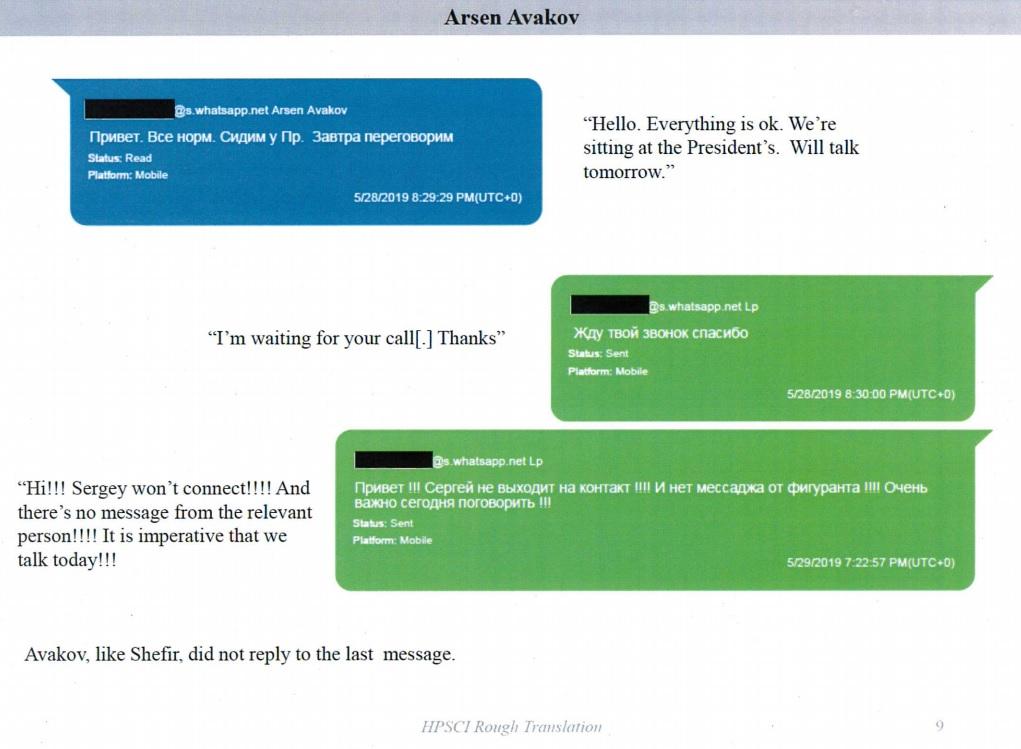 Screenshot
In early May 2019, Parnas reached out to Avakov, asking for his help in facilitating Giuliani's trip to Ukraine. Avakov did not reply to the last message from Parnas, in which the latter asked about the results of meeting with the president.
Moreover, Parnas frequently communicated with former Prosecutor General Lutsenko, who fed Parnas information about the Bidens. Lutsenko frequently made references to Ambassador Marie Yovanovitch, whom he wanted removed from her post in Kyiv. He wrote the ambassador had pointed to bad selection of judges for the Supreme Court.
Screenshot
In addition, Lutsenko said Yovanovitch had asked not to "touch" the "high-profile activists of the National Anti-corruption Bureau," namely MPs Serhiy Leshchenko, Mustafa Nayyem, as well as NGO member Vitaliy Shabunin.
Screenshot
"It's just that if you don't make a decision about Madam [Yovanovitch] – you are bringing into question all my allegations. Including about B," Lutsenko said. He added "My [ex-Minister of Ecology Mykola] Zlochevsky matter is progressing well." In addition, he said "And here you [Giuliani] can't even get rid of one [female] fool."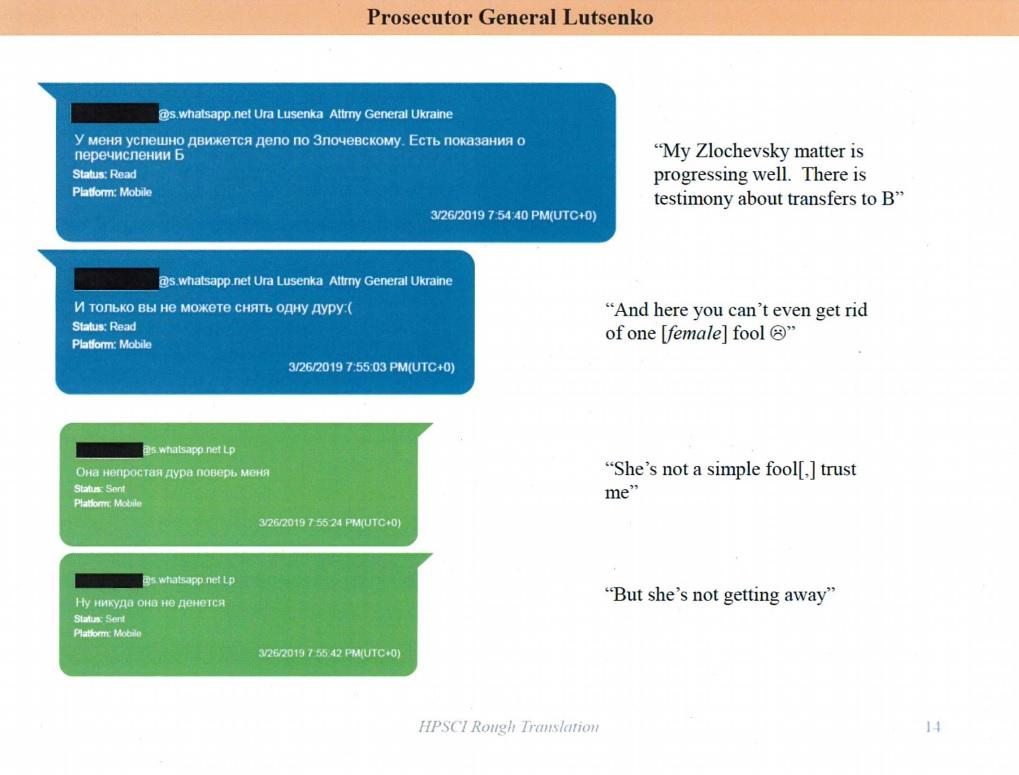 Screenshot
In response, Parnas said the U.S. openly supports Lutsenko and called him "a true Ukrainian hero."
As UNIAN reported earlier, on September 24, 2019, after a whistleblower's complaint, the White House unprecedentedly published the memorandum of the July 25 telephone conversation between U.S. President Donald Trump and his Ukrainian counterpart Volodymyr Zelensky, which became the cause behind a formal impeachment inquiry into Trump.
According to the memorandum, Trump repeatedly asked Zelensky to "look into" the situation regarding a probe into former U.S. Vice President Joe Biden's son, Hunter Biden, in Ukraine.