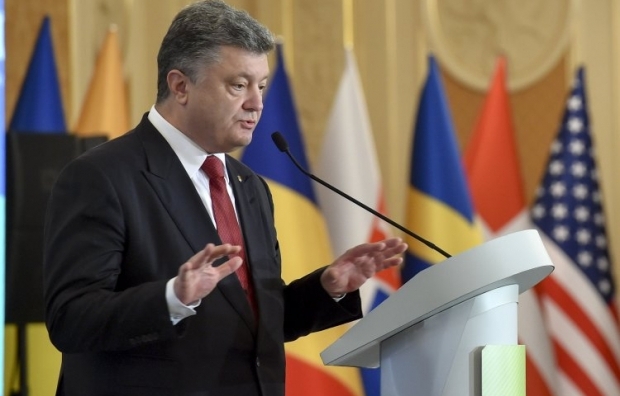 Poroshenko says he trusts Ukrainians as they cannot be deceived by the Kremlin's propaganda / Photo from UNIAN
Speaking in an interview with Ukrainian TV Channels on Thursday on the occasion of his first anniversary in presidential office, Poroshenko said he is sure that the local elections would take place in Ukraine.
"Artificial projects implemented by the Kremlin to promote the so-called Russian World idea [the concept of the international, interstate and transnational community united by its commitment to Russia, the Russian language and culture, sometimes translated as 'Russia's space' – the translator's note] will encounter very strong [Ukrainian] patriotism – no matter where it will be – be it in Ternopil Ivano-Frankivsk, Uzhgorod or Kharkov, Zaporizhia or Dnipropetrovsk. We will do our best not to let it happen. That is why I deliberately, in spite of numerous appeals to cancel the local elections, announce: the elections will take place," Poroshenko said.
He also expressed confidence that the Ukrainians would vote for the right candidates in the regions.
"I am sure that the revenge-seekers won't have any chance, because I trust the Ukrainian people, I'm sure they cannot be deceived, and the Kremlin's propaganda won't work in Ukraine. And I will personally make liable those who will try to engage the administrative resource [to win the elections]," Poroshenko said.
As UNIAN reported earlier, the local elections in Ukraine are scheduled for October 2015.