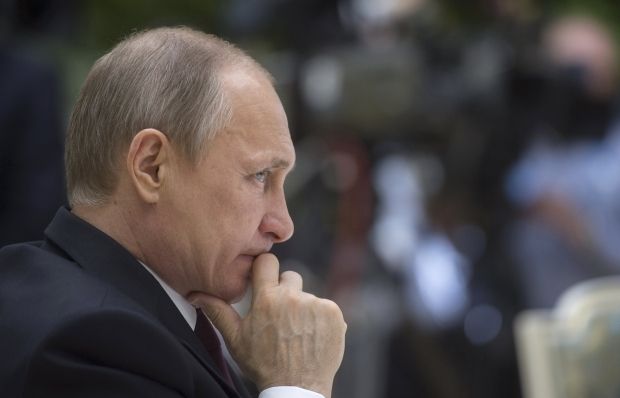 REUTERS
"Not only is this decree a blatant attack on freedom of expression, it also has sinister undertones that will intensify speculation that President Putin has something to hide — specifically losses incurred by Russia's military in Ukraine," John Dalhuisen, Amnesty's Europe and Central Asia director, said in a statement.
In addition, according to him, this step also increases the security concerns of Russian media and civil society activists who have been persecuted for trying to independently cover the conflict in Ukraine.
In August last year, several journalists were assaulted in separate incidents when attempting to report on the secret funerals of Russian soldiers killed in Ukraine.
"This new decree raises some disturbing questions, such as whether journalists and civil society activists reporting on alleged losses in Ukraine in future might be criminally prosecuted for treason," Dalhuisen said.
Another consequence, he said, is that the families of soldiers killed during "special operations" will be deprived of the truth about the fate of their loved ones.
"The Kremlin has consistently denied sending troops and weapons to help separatist forces across the border, but satellite imagery and testimony gathered by the organization provide compelling evidence of a build-up of Russian weapons and artillery in eastern Ukraine, and Russia is accused of inciting the separatists to commit war crimes," Amnesty International said in a statement.
As reported earlier, according to the materials prepared by the Russian opposition leader Boris Nemtsov, which were released after his assassination, all major military breakthroughs of pro-Russian militants in the Donbas were supported by the Russian army.
According to the report, 70 Russian paratroopers alone were killed in fighting near Debaltseve in Donetsk region in January and February 2015, and 150 Russian soldiers were killed in Illovaisk in August 2014.
It also stated that the recruitment, arming and redeployment of "mercenaries" to Donbass is carried out by Russians.
The presence of units of the Russian regular army in eastern Ukraine has been repeatedly claimed by the Ukrainian authorities, the EU, the United States and NATO . Russia still denies the charges and the evidence, claiming that the Russian citizens who are fighting in Ukraine are volunteers, who have resigned from service in the army or taken a leave and obtained weapons - apparently including tanks and sophisticated military spy drones - on their own.
However, a large and growing body of evidence indicates that Russian regular troops have been deployed to Ukraine by Russia to fight for the militants, albeit in unmarked uniforms.
Large numbers of Russia military vehicles have also been photographed in Russia, and then later in Ukraine, with their markings removed. The militants have also been observed using weapons and equipment used only by the Russian armed forces and that could only have come from Russia.
Earlier in May Ukrainian forces shot down a sophisticated Russian military UAV. The $6 million Forpost drone was claimed by the Ukrainian military to be one of only 11 such aircraft in the Russian arsenal. Pictures of the same drone being assembled in an aviation plant in Russia in November 2013 quickly appeared on the Internet, lending much weight to the Ukrainian military's claims.
According to the latest data of ATO Headquarters released on May 23, about 8,860 Russian military are deployed in the occupied territories of Donbas.