Yeliseev: Time to separate Azerbaijan, Belarus, Armenia from other Eastern Partnership countries
It's time to make Azerbaijan, Belarus and Armenia a separate group in the EU's Eastern Partnership policy, the representative of Ukraine to the EU, Ambassador Konstantyn Yeliseev,said on Friday during the eighth Kyiv Security Forum, according to an UNIAN correspondent.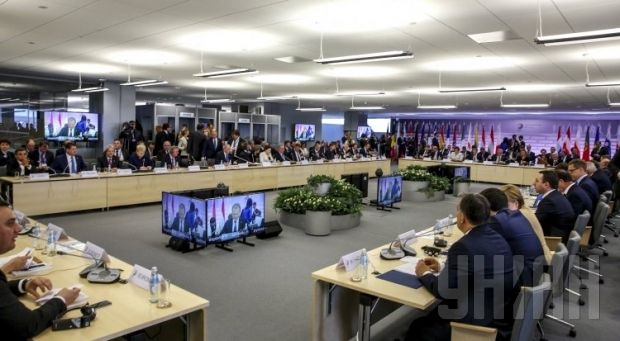 UNIAN
The diplomat drew attention to the policies that Georgia, Moldova and Ukraine might follow in confronting external threats.
"At first, we are able to provide a policy of differentiation in the framework of the Eastern Partnership," he said.
"I think it's high time to separate these three countries - Ukraine, Georgia and Moldova from Armenia, Azerbaijan and Belarus. We have tried to do this. By the way, we have agreed a tripartite declaration on Ukraine, Georgia and Moldova at the Riga summit. This is a clear differentiation," Yeliseev said.
As UNIAN reported earlier, the Eastern Partnership program was founded in 2009. The project is a joint initiative of the EU and six partner countries in Eastern Europe and Southern Caucasus: Armenia, Azerbaijan, Belarus, Georgia, Moldova and Ukraine.
The Eastern Partnership program provides for political association and economic integration of the EU with its member countries.
Ukraine, Georgia and Moldova have already signed Association Agreements with the EU.
If you see a spelling error on our site, select it and press Ctrl+Enter