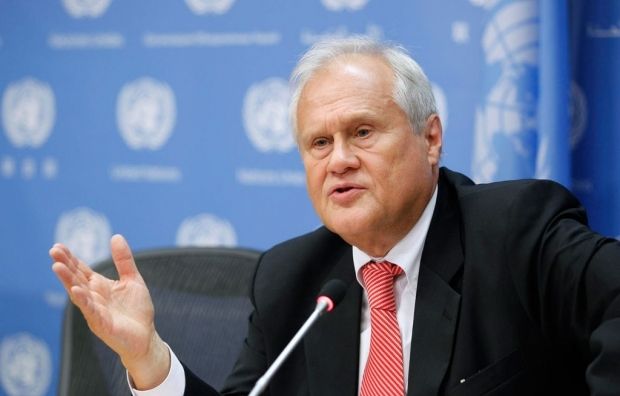 unmultimedia.org
Former Special Representative of the OSCE Chairperson-in-Office in Ukraine and in the Trilateral Contact Group (TCG), Ambassador Martin Sajdik has said Ukraine and Russia are parties to the conflict in Donbas as evidenced by the signatures of the Ukrainian and Russian representatives in the Minsk agreements.
"If you look at the Minsk agreements, how they were originally signed, you will see signatures of Heidi Tagliavini [former head of the OSCE mission in the Contact Group], Leonid Kuchma [representative of Ukraine in the TCG], and Mikhail Zurabov [former Ambassador of the Russian Federation to Ukraine]. Then some lines are skipped – and there are [signatures of] Zakharchenko and Plotnitsky [ex-leaders of the 'DPR' and 'LPR' terrorist organizations]. Why are Ukraine and Russia at the top? Are they not parties to the conflict? That's exactly why they are at the top. And there is a mediator, the OSCE," Sajdik said in an interview with the Russian daily Kommersant, published in Russian, Liga.net reports.
OSCE reports say in 80-90% of the cases, it was illegal armed groups who denied observers access to certain areas in the warzone.
Read alsoDonbas elections only possible after Russia pulls its troops – U.S. Mission to OSCE
Sajdik added that Russia cannot be referred to as "mediator" as Moscow plays for "one side" of the conflict.
According to Sajdik, the Minsk agreements only envisage a special status of Donbas amid Ukraine's general decentralization.
"There are no other words and concepts there. Russia, it seems to me, so far refuses to talk about how the territorial integrity of Ukraine will be restored according to the spirit and letter of the Minsk agreements," he added.