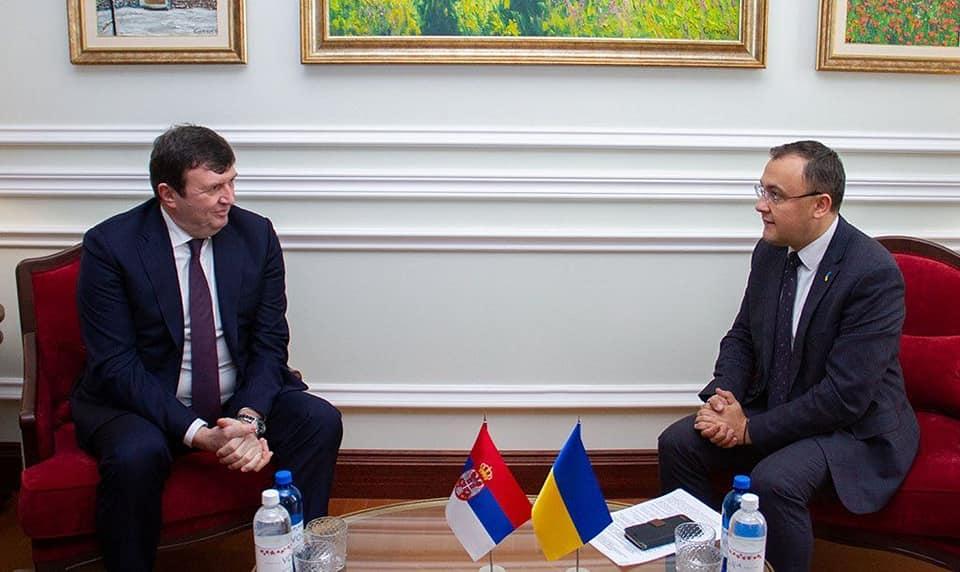 Jovanovic (left) and Bodnar (right) / Photo from Ukraine's Foreign Ministry
New Ambassador of Serbia to Ukraine Aca Jovanovic has arrived in Kyiv.
"Deputy Foreign Minister Vasyl Bodnar has accepted copies of the credentials from Serbian Ambassador Aca Jovanovic," Ukraine's Foreign Ministry said on Twitter on January 21.
"The Deputy Minister expressed the hope for stepping up Ukrainian-Serbian dialogue and for Serbia's more active position in support of the territorial integrity and sovereignty of Ukraine," it said.
Read alsoSerbian Foreign Ministry comments on Crimean occupation administration envoys' visit to Serbia
As UNIAN reported earlier, a delegation from Russian-occupied Crimea met with deputies of the Serbian parliament during their visit to Belgrade on December 4-7. The envoys of the so-called "Crimean authorities" also took part in a conference titled "The Belgrade Dialogue: for Constructive Relations with Russia and the Recognition of the Crimean People's Will."
Ukraine's Ministry of Foreign Affairs expressed its deep concern about the recent visit of representatives of the occupying administration in Crimea to Belgrade and their participation in official events.