UN says Russia responsible for deterioration of human rights in Donbas, Crimea
Russia is responsible for the deterioration of human rights in eastern Ukraine and Crimea, according to the 10th report by the Office of the UN High Commissioner for Human Rights on the human rights situation in Ukraine from February 16 to May 15, 2015, the Ukrainian Foreign Ministry said in a comment to UNIAN.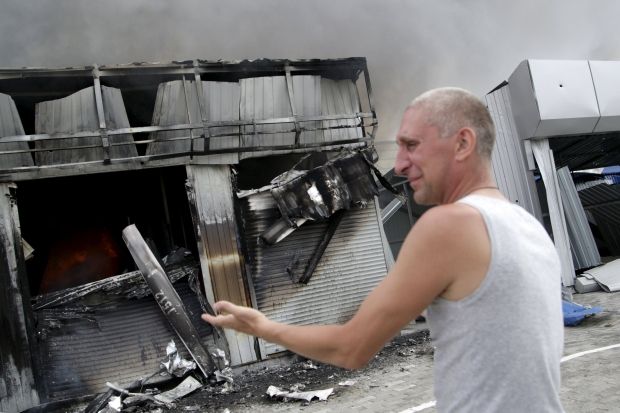 REUTERS
"It is important that the report clearly states the responsibility of the Russian Federation for the worsening of the situation in some regions of Donetsk and Luhansk regions. It states that the Russian Federation supplies modern types of heavy weapons and mercenaries. It significantly wider documents crimes and human rights violations committed by Russian-backed militants. The document also covers the difficult situation with human rights in the temporarily occupied Crimea: the United Nations Human Rights Monitoring Mission in Ukraine (HRMMU) notes that the so-called Crimean "powers" continue to limit the rights of ethnic Ukrainians and the Crimean Tatars," the ministry said.
"The Ukrainian side fully shares the HRMMU's conclusions about the importance of the proper fulfillment of a package of measures to implement the Minsk agreements. We urge the mission to more clearly and objectively record the destructive actions by the Russian side. The Russian occupation of Crimea and subversion activity of the Russian Federation in Donbas are the real causes behind gross violations of human rights in certain districts in Donetsk and Luhansk regions and in the occupied Crimea. The Ukrainian government remains completely committed to the full observance and protection of human rights and is set to further cooperate with international human rights structures, including the UN systems. The Ukrainian side will continue to cooperate and is prepared to join thorough investigation of all cases of human rights violations and expects that the mission will continue monitoring verified facts of offenses and will duly cover them in its next reports," the ministry stressed.
If you see a spelling error on our site, select it and press Ctrl+Enter