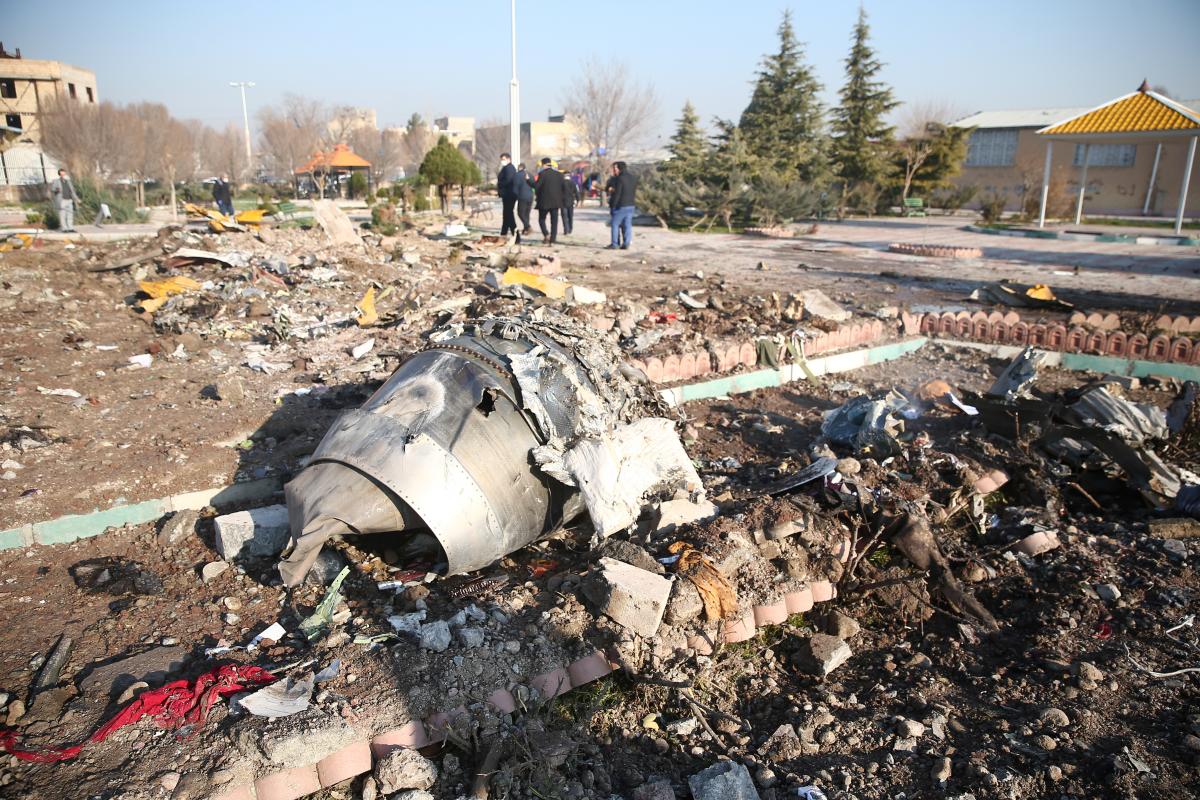 The crash site outside Tehran, Iran / REUTERS
The International Coordination and Response Group for the victims of Ukraine International Airlines (UIA) flight PS752, which was shot down in Iran on January 8, demands that the Iranian authorities give it the black boxes of the downed plane.
"All countries are concerned with Iran's failure to release the black boxes. Annex 13 to the Convention on Civil Aviation requires this take place without delay. Iran must release the black boxes immediately as a demonstration of continued willingness to have a full and transparent account of this event," the group consisting of representatives of Ukraine, Canada, Sweden, the United Kingdom, and Afghanistan, said in a statement on February 4 after their fifth meeting by teleconference.
All countries used the opportunity to update on their respective repatriation processes.
Importantly, they agreed on the need for continued pressure to secure closure, accountability, transparency and justice for the victims of flight PS752.
Read alsoFrance ready to help Ukraine analyze UIA PS752 black boxes
Canada's Federal Minister of Foreign Affairs Francois-Philippe Champagne shared with the group that he had made an official approach to the International Civil Aviation Organization on this matter with Transport Minister Marc Garneau last Friday.
"Furthermore, all participants are committed to finding common ground on legal options for negotiations with Iran regarding its responsibility in this act in order to bring justice, including equal compensation to the families of the victims of flight PS752," the statement said.
As UNIAN reported earlier, Kyiv-bound UIA flight PS752 crashed shortly after takeoff from Tehran's Imam Khomeini International Airport in the early hours of January 8. It was carrying 167 passengers and nine crew members on board. Two passengers and the crew members were Ukrainians. There were also 82 citizens of Iran, 63 citizens of Canada, 10 citizens of Sweden, four citizens of Afghanistan, three citizens of Germany and the United Kingdom each. There were no survivors.
On January 11, Iranian President Hassan Rouhani officially admitted that the Ukrainian airliner had been shot down by accident as a result of a "human error" and that those responsible would be held accountable.
On February 2, intercepted communications between Tehran Airport's air traffic control tower and the second pilot of Iran's Aseman Airlines flight at the time of the crash of flight PS752 were released by TSN.Tyzhden. Tehran blamed the Ukrainian authorities for leaking what it described as confidential evidence, and said it would no longer share material with Ukraine from the investigation into the crash.