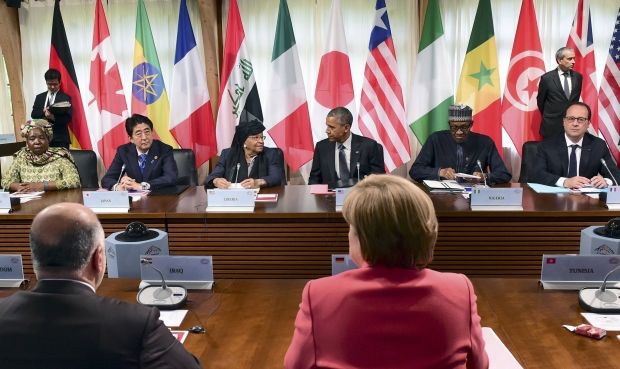 REUTERS
"On the one hand, there are very positive things that are being discussed by all of the G7 leaders. They say that currently the Russian Federation is not a partner of the G7, because it violates everything that can be violated, it supports other values ​​that are incompatible with the values ​​of G7," Ohryzko said.
"The G7 leaders argue that lifting of sanctions is out of the question as long as Russia does not fulfill its commitments - it can only mean the tightening of sanctions, but not lifting," Ohryzko said.
"The condition for lifting sanctions is the fulfillment of the Minsk agreement by Russia and the militants. Also, the unity of the West should be maintained, otherwise Russia will have an absolute advantage, continuing its policy of 'divide and rule.'"
According to the ex-minister, at the G7 summit in Germany the opinion was expressed  that "Russia is becoming global problem No. 1. This opinion was left somewhat unnoticed, but not to the experts."
However, the G7 leaders are also voicing messages, which,  according to the ex-minister, do not fully correspond to today's realities.
"The United States continues to say that it will not provide Ukraine with lethal weapons, and some G7 leaders are insisting that they need Russia as a partner. The condition for lifting of sanctions is to stop the fighting in the east of Ukraine, to implement the Minsk agreement, but there is no mention whatsoever about Crimea. "
Ohryzko said he believes that the G7 countries are still in the process of rethinking Russia's role in the world.
As reported earlier, the G7 summit began on Sunday, June 7, in the scenic resort of Garmisch-Partenkirchen in Bavaria, in the castle of Elmau. The president of Russia was not invited to the summit, with German Chancellor Angela Merkel explaining that Moscow's policy towards Ukraine did not meet the "standards of countries that share such values ​​as democracy and the rule of law."
Before the start of the summit, two of its members - Japanese Prime Minister Shinzo Abe and his Canadian counterpart Stephen Harper – visited Ukraine on June 6. Both expressed their support for the territorial integrity of Ukraine.