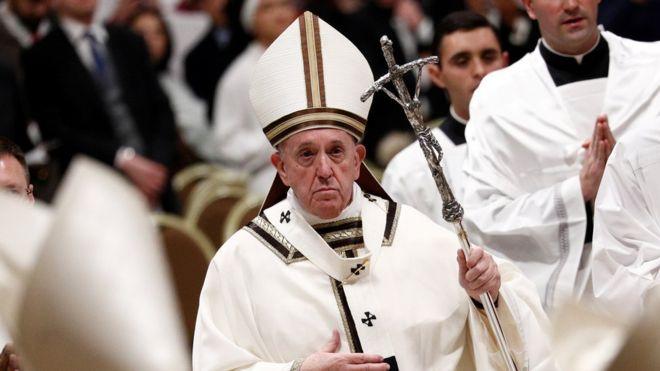 REUTERS
Ukraine has information allowing to state that Vitaliy Markiv, a Ukrainian National Guardsman sentenced by an Italian court to 24 years in prison on charges of complicity in the killing of an Italian journalist and his Russian interpreter in the Donbas warzone, is in fact not guilty, according to the newly-appointed chief of Ukraine's Presidential Office, Andriy Yermak.
"The issue of Vitaliy Markiv was brought up at all meetings, including those with the Pope and Vatican State Secretary, and president shared with the delegation the contents of those meetings," Yermak told Ukraine 24 TV Channel, Segodnya reports.
"He said that he had told the Pope the whole story in detail. The Pope said the following: 'You struck me in the heart. I realize that when you came as president and dedicated so much time to telling the story of just one Ukrainian citizen, I believe you are president of peace.' To him, it was very important emotionally, and I believe they had a really good connection. He promised to provide help."
Yermak added that he was assured Vatican would play an important humanitarian role in Markiv's case, as well as in the issue of Donbas settlement in general.
As UNIAN reported earlier, Ukrainian President Volodymyr Zelensky and Italian Prime Minister Giuseppe Conte have discussed the case of Ukrainian guardsman Vitaliy Markiv, who has been convicted and sentenced to 24-year imprisonment in Italy.
"I understand that the Prime Minister cannot influence the Italian court. But I showed in detail what happened there, at what distance he [Markiv] was from the murder scene. And that we have to take the man [back home]," the president said, according to the presidential press service.
UNIAN memo. Deputy commander of a platoon of the Ukrainian National Guard's first battalion, senior sergeant Markiv was detained in Italy on June 30, 2017, on suspicion of the murder of Italian journalist Andrea Rocchelli and his Russian interpreter Andrei Mironov amid a mortar attack in Donetsk region in May 2014.
According to the Ukrainian investigation, the two were killed in shelling by Russian-led troops. Ukrainian National Guard officials insisted that the Ukrainian battalion was not armed with mortars in 2014.
The jury in the court of Italy's Pavia on July 12, 2019, sentenced the Ukrainian guardsman to 24 years in prison.
He is also to pay compensation to Rocchelli's family. Zelensky ordered the Ministry of Foreign Affairs and the Prosecutor General's Office to immediately address the issue of Markiv's return to Ukraine. On November 20, Ukraine filed an appeal against Markiv's verdict. It is to be considered by a Lombardy appellate court in the spring of 2020.